Skip page content
Schools Program - "Children Helping Children"
"Tell me and I'll forget.
Show me, and I may not remember.
Involve me, and I'll understand."
(Native American Saying)

Children Helping Children
---
Teaching children to give and to volunteer inculcates one of the highest values of modern society and serves to transmit the Jewish tradition of tzedaka (charity) from generation to generation. By providing school students with new tools for caring and concern about their more unfortunate peers, we imbue them with a sense of worth, identity and sound principles that will accompany them for the rest of their lives.
There are many ways that schools and/or individual grade classes can become involved with Schneider Children's Medical Center of Israel and we encourage and welcome original ideas from children themselves, thus making the endeavor even more meaningful.
Here are some of our own suggestions:
Bikur Cholim: Visiting the Sick - arrange for your class or family to visit children at Schneider Children's. We will arrange a special program for you including a presentation and a tour to meet hospitalized children.


Create special greeting cards on the occasion of religious Festivals (all denominations welcome) and holidays from the children in your class to hospitalized children.


Adopt Schneider Children's as your school's Annual Charity Project and develop creative ways to raise money with the participation of schoolchildren, such as:

a) A Bake Sale where students bake cookies at school on a
designated date and sell them at a special school function.
b) An Art Auction where students create an art project which can
be displayed and sold at a special auction in honor of the
medical center.
c) A Hat Day where students design and create their own unique
hats, then wear them as they visit each classroom to advertise
their very special class charity project.
d) Make a class quilt (or several quilts) as gifts for hospitalized.
children. Parents can be encouraged to help design, make or
fund each square.
e) Produce an afternoon of entertainment for school students and
the proceeds can benefit hospitalized children.


Donate the annual grade charitable contributions that are collected during the year towards the purchase of soft cuddly toys for hospitalized children.


Promote knowledge and education by sending gifts of toys unique to your country of origin.
School principals and teachers are in a unique position to nurture students' emotional development through the promotion of Schneider Children's beyond charitable undertakings. Specific enrichment classroom discussions on a variety of topics may include:
Asking children to explore the concepts of philanthropy - how one person's thoughtfulness and generosity can lead to others doing the same.

Encouraging older children to look around their environment as a tandem project and discover how philanthropy has made their world a better place.

Directing younger children in a discussion of the language and meaning of love, consolation and caring, and how compassion for others is a positive and personal experience.

Exploring how an individual's own creativity - be it in the field of song, dance, craft making, prayer, etc. - could assist their less fortunate peers.
Many schools around the world have already participated in special projects to benefit Schneider Children's. We would like to encourage other schools - both Jewish and non-Jewish, whether in Israel or abroad - to follow their fine example.
Who to Contact:
Ronit Singer
Director
External Affairs
Tel: 972-3-9253742/142
Cell: 972-50-6264780
Fax: 972-3-9253855
Email: rsinger@clalit.org.il
Maskit Shochat
Director
The Education Center
Tel: 972-3-9253635/063
Fax: 972-3-9214456
Email:

[email protected]



Alin and her new Donald Duck

Diana hugs her new
tiger

Eden loves her new
bunny


Special Project for Schools: Going the Extra Smile
---
In keeping with the motto of Children Helping Children, Schneider Children's will designate all funds raised by schools to its unique "Going the Extra Smile" Program.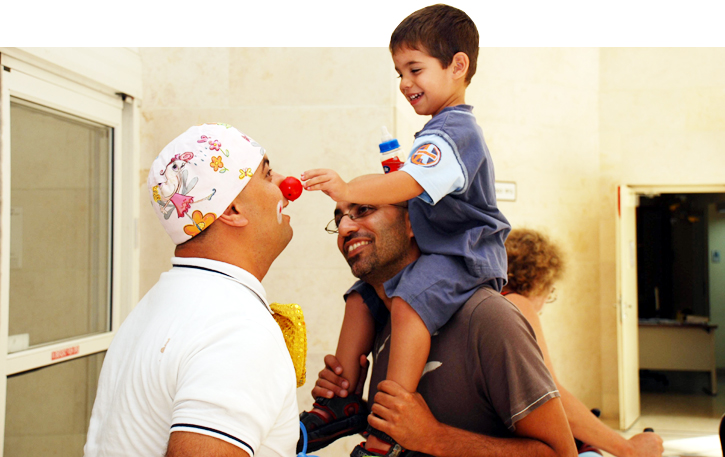 The Healing Power of Laughter
"A clown is like an aspirin, only he works twice as fast"
(Groucho Marx)

Hospitalized children must seek new coping strategies to help them deal with illness or injury that is often unfamiliar, frightening and painful. Laughter is one of the body's safety valves, and can have a significant impact upon diagnosis, treatment and subsequent rates of recovery and rehabilitation. Making children laugh is distracting, boosts their morale, and results in relaxation, higher pain tolerance and improved compliance. In medical terms, laughter bolsters levels of endorphins, the body's natural painkillers, and suppresses levels of epinephrine, the stress hormone.
The art of clowning and mime has universal appeal that blurs the barriers of language and culture. Jesters alleviate intimidating medical jargon, lengthy tests or painful procedures through interpretations of Dr. Thermometer or Dr. Ithurtsme. Dressed in funny and sometimes ridiculous costumes, clowns use a variety of hospital equipment for props such as syringes and infusions. Drama games, puppets, masks, creative figures, stories, music, art and other mediums are employed in order to enhance participation and enjoyment.
Every child, whether healthy or ill, has a natural need to laugh. Schneider Children's "Going the Extra Smile" program brings the world of humor, imagination and magic to youngsters in the hospital. Hospital Clowns are assigned to specific patients - in particular acutely and chronically ill children - and accompany them before, during and even after their hospital stay where necessary. Their presence helps to develop stable and trusting relationships, encouraging the child's desire and motivation to get better.
Schneider Children's employs 8 clowns who entertain hospitalized children for 4 hours every week. $40,000 are needed annually to support the "Going the Extra Smile" program in its entirety. Since the costs do not fall within the standard operating budget of the hospital, Schneider Children's must rely upon the generosity of private donors.

$25 supports 1 clown per hour
$100 supports 1 clown per week
$500 supports 1 clown per month

Testimonials: A Gallery of Giving
---
We mention here a few of the schools which have participated in our "Children Helping Children" Program. Through their generosity, creativity and thoughtfulness, they have shown an exemplary capacity for resourcefulness and compassion.
Bialik College, Melbourne, Australia
As part of their ongoing fundraising commitment to Schneider Children's, primary school students conducted a coin-a-thon. Pupils brought 20-cent coins, creating paths of coins for their classes. Then they measured the lines to see which class had the longest line of coins, after which students estimated how much money had been raised.



Devin Rudaizky and Andrew Schnapp
measure the coin lines


Ross Picker succeeded in guessing
the correct amount raised
The Temple Beth Ahm School, NJ, USA

Students dared to ask others...DO YOU CARE?


| | |
| --- | --- |
| "DO YOU CARE?" POSTER | Through the initiative of their teacher Osnat Kalati, the students in Grade 4 created a unique poster with the challenging question "Do You Care?" as part of their fundraising efforts. They also collected money, which the principal of the school, Gail Buchbinder, presented to the hospital when she visited in early 2004. |
| | |
| --- | --- |
| Enjoying the gift | Continuing their efforts, students in the 2005 Grade 4 class prepared gift packets for patients with a flag and stickers to decorate their rooms. The school is affiliated with the Conservative movement in the United States and comprises just over 130 children, who study on weekends and after public school during the week. |
The Epstein School, Atlanta, GA, USA

| | |
| --- | --- |
| | Through the initiative of Ety Nes-Ya and Wendy Yaniv, the children in Grade 2 undertook a special Mitzvah Project during 2004 called "bikur cholim" – helping the sick. The students worked with Schneider Children's and held a variety of functions to help raise awareness and funding. The pupils also handcrafted a colorful quilt inscribed with messages of love and caring. |
The quilt was placed in a special frame and has been displayed permanently for all to see and admire.
Jewish Educational Association, MetroWest, NJ, USA
Students prepared innovative get-well cards.
The get-well cards arrived in time to distribute them to hospitalized children during the festival of Purim. Even teenagers enjoy the welcome wishes
| | |
| --- | --- |
| | JEA of Metrowest continues their support of Schneider Children's. Liz Lacher presented 21 surgidolls sewn by 9th – 11th grade students of their Mitzvah class to hospitalized children. "We will make more," said Liz. Each surgidoll came with a 'get well soon' wish from the students of Central Hebrew High School. |
The JCC on the Palisades, Tenafly, NJ, USA
Within the framework of their Day of Care and Sharing Program at the Jewish Community Center's Maccabi Games, youngsters created novel dolls from syringes alongside colorful get-well cards.
Hospitalized youngster holds his new toy and get-well card sent by
children participating in the Maccabi Games at the JCC on the Palisades
Bronx House-Emanuel Camps, Inc., NY, USA
Campers collected money at their summer camp to send to Schneider Children's.
Cohen Hillel Academy, Marblehead, MA, USA
Sent encouraging get-well letters to hospitalized children.
Gesher Jewish Day School of N. Virginia, USA
Pupils collected contributions for Schneider Children's.
Carmel Jewish Day School, Perth, Australia
Students prepared get-well cards for hospitalized children.
Leibler Yavneh College, Melbourne, Australia
Students prepared special greeting cards on the eve of Rosh Hashanah 2003.

Stephen Wise Free Synagogue, New York, NY, USA
Second grade students Tzedakah project raised funds for Schneider Children's.
Religious School and Nursery School of Central Synagogue, New York, NY

| | |
| --- | --- |
| Patients delve into their giftboxes | Students of the schools made gift boxes filled with stickers and crayons for children hospitalized at Schneider Children's. |

Akiva School, Nashville, TN

| | |
| --- | --- |
| | Students raised funds which were delivered by Yonatan Hadad, Director of Judaic Studies, when he visited Schneider Children's in January 2005. |