Skip page content
Nutrition and Dietary unit
The Nutrition and Dietary Unit offers a range of consultation services and nutritional guidance as part of medical treatment for all hospitalization departments and outpatient clinics. Clinical pediatric dieticians conduct nutritional evaluations and determine programs for each child and according to the latest local and international nutritional guidelines. Service-oriented activities are characterized by professionalism and open-mindedness, with an individualized program for each child and his family, fostering the child's sense of empowerment. Unit dieticians regularly participate in professional workshops and conferences in Israel and abroad.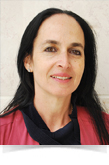 Director of the Unit
Dafna Busani-Ziv


Location: 5th Floor
Hours: Sundays to Thursdays, 08:00-14:30
Tel: 972-3-9253900
Fax: 972-3-9215322
Appointments: 972-3-9253210, Sunday-Thursday 08:00-15:00; Holiday eves and intermediary holidays, 08:00-12:00
Appointment Form



Deputy Directors
---
Gila Faiman
Michael Kairi



Dieticians
---
Adi Bar-Eyal
Netta Biran
Lauren Ben Yehuda
Galia Blumenkrantz
Keren Davidson
Dana Eidler-Reznick
Dr. Michal Gilaon
Dr. Michael Gavan Yaacobowitz
Dafna Kiesari
Ana Kreisman
Irit Halifa Kurtzman
Gal Levi Silver
Anat Maslansky
Luba Marderfeld
Dana Resnick
Leah Ron
Yarden Sagi
Shelly Steinling
Dana Tzarfati
Ofri Yellin-Ohana
Liraz Zion-For



Referrals
---
Referral from doctors in all departments at Schneider Children's



Services to the Public
---
The Unit provides lectures about nutrition and the latest developments about foodstuffs to professionals and the general public: nurses, doctors, dieticians, students, businesses, schools and crèches.