Skip page content
The Institute of Nephrology


The Institute of Nephrology at Schneider Children's is a national referral center of excellence for children with a wide variety of acute and chronic renal diseases. It comprises a Dialysis Unit and five clinics for General Nephrology, Hypertension, Pre-Natal Counseling, Renal Failure, and Kidney Transplantation.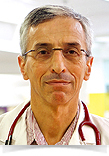 Director of the Institute
Prof. Daniel Landau


Location: 2nd Floor - The Glass Building
Hours: Sundays, Tuesdays, Wednesdays, Thursdays, 08:00-14:00
Tel: 972-3-9253692
Fax: 972-3-9253511
Email: [email protected]
Appointments: 972-3-9253210, Sundays to Thursdays, 08:00-15:00;
Holiday eves and intermediary holidays: 08:00-12:00



Senior Physicians
---
Dr. Hadad Alfandary
Dr. Yael Borovitz
Dr. Amit Dagan
Dr. Gilad Hamdani
Dr. Orly Haskin
Dr. Shelly Levi
Dr. Daniella Levy Erez



Nursing Team
---
Gili Koren - Head Nurse
Neomi Zanhendler - Kidney Transplantion Coordinator

Dietitians
---
Liraz Zion-pur
Eyal Reller
Nicole Sher
Maya Matarasso


Medical Services
---
Diagnosis, treatment and follow-up of a range Urinary Tract disorders:
Infections

Congenital and acquired kidney diseases

Hematuria (blood in the urine)

Proteinuria (protein in the urine)

Nephrolithiasis (kidney stones)

Hypertension

Treatment and follow-up of kidney transplant recipients

Renal failure

Prenatal consultation for renal defects

Referrals
---
Letter from the community physician together with the payment guarantee
Referral by doctors at Schneider Children's



---

The Dialysis Unit treats children with end-stage renal failure by peritoneal dialysis or hemodialysis. Peritoneal dialysis is preferable as it is performed through the exchange of fluids in the abdominal cavity, is suitable for any age, and allows the child to connect to the dialysis machine at home and even while asleep. Hemodialysis on the other hand is conducted through the large blood vessels, requiring the child come to the hospital at least three times a week for 4 hours.



Head Nurse
---
Yaffa Falush
Hours: Sundays, Tuesdays, Thursdays, 08:00-20:00
Tel: 972-3-9253758/069
Fax: 972-3-9253139
Referrals
---
Letter from the community physician together with the payment guarantee
Referral by doctors at Schneider Children's following evaluation by Institute staff