מרכז שניידר לרפואת ילדים בישראל - homepage


Skip page content
Clalit Smile - Dentistry
Clalit Smile is the largest network of dentistry clinics in the country. The experienced team at Schneider Children's excels in treating children and utilizes advanced instrumentation and quality materials. Treatment is also provided to children with special needs, and where necessary, dental treatment is given under general anesthetic.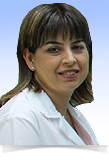 Director of the Unit
Dr. Eti Deutsch

Location: 4th Floor
Hours: Sundays to Thursdays, 08:00 – 13:00
Tel: 972-3-9216563
Fax: 972-3-9216539
Appointments: 972-3-9253210, Sundays to Thursdays, 08:00-15:00; Holiday eves and intermediary holidays: 08:00-12:00
Appointment Form (download)

Physicians
---
Dr. Revital Abramovich
Dr. Marva Balom
Dr. Eti Dayan
Dr. Odeliya Lachmanovich
Dr. Aharon Lavi
Dr. Maya Rosenfeld
Dr. Dora Shechter
Medical Services
---
Standard care

Children with special needs

Treatment under General Anesthesia


Referrals
---
In general, there is no need for a referral letter.
However, children undergoing medical follow-up are requested to bring a referral letter from the attending physician.
Appointments may be made directly with the clinic during hours.
Complete Dental Insurance ("Clalit Mooshlam")
Clalit Mooshlam is leading the revolution in dental insurance in Israel: platinum members are entitled to free care until the age of 18, and from the age of 18, they receive a reduction of 70%. Orthodontic care and other dental treatments are provided at 50% reduction for all ages.