Skip page content
The Institute of Cardiology


The Institute of Cardiology at Schneider Children's is by far the largest and most active center in Israel and serves as a national referral center for the diagnosis and treatment of newborns, infants and children with congenital and acquired heart disease. The highly skilled and experienced team of pediatric cardiologists currently constitutes the only one in the country capable of dealing with all aspects of heart disease in children at the highest level by international standards. A 3-year Fellowship program was introduced in July 2005.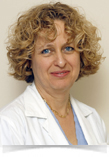 Director of the Institute

Prof. Einat Birk
Location: 6th Floor
Hours: Sundays to Thursdays, 08:00 – 13:00
Tel: 972-3-9253715 Fax: 972-3-9253146

Catheterization Unit: Tel: 972-3-9253715 ext. 5, Fax: 972-3-7426828
Fetal Echocardiography Clinic: 972-3-9253715 ext. 4, Fax: 972-3-7426844


Senior Physicians

---
Dr. Michael Berant
Dr. Elchanan Bruckheimer, Director of the Catheterization Unit
Dr. Tamir Dagan
Dr. Tom Einbinder
Dr. Rami Fogelman, Director of the Pacemaker Clinic
Dr. Alex Lowenthal, Medical Director, Ambulatory care
Dr. Amichai Rotstein
Dr. Adi Adar
Head Nurses
---
Luciana Hershcovitz - Cardiology
Galit Amsalem - Catheterization Unit


Medical Services
---
Echocardiography
Following unprecedented advances in technology, the field of non-invasive echocardiography (cardiac ultrasound) has overtaken cardiac catheterization as the primary diagnostic tool. More than 10,000 echocardiograms are conducted in the Cardiac Institute each year, about 20% of which are fetal ultrasounds (diagnosis and follow-up care). The latest advanced modality introduced in cardiac ultrasound is 3-dimensional imaging of the heart.
Fetal echocardiography is performed on expectant mothers at 20 weeks of gestation, enabling diagnosis of fetal heart lesions during pregnancy. When needed, surgery is performed at the optimal timing for best results. The fetal clinic is the largest such clinic in the country.


Transoesophageal echocardiography (TEE) is a reliable tool during invasive cardiac procedures, and is used routinely to assess surgical results in the operating room and is an essential tool in therapeutic catheterization procedures.


Electrocardiography
The Unit treats the majority of children in Israel who suffer from cardiac arrhythmias, as well as fetuses as part of pre-natal care. The technique of Cryotherapy – deep freezing at -70°C which produces the most accurate results – was introduced in 2005. Another new modality identifies precise locations of disorders in the conduction system and heart beat without the need for fluoroscopic imaging, reducing radiation by 90%.


Cardiac Catheterization
The Unit is the largest of its kind in Israel and conducts the majority of pediatric catheterizations in the country. Cardiac catheterization is a diagnostic and therapeutic tool at the same time, which frequently precludes the need for open-heart surgery. The catheterization rooms have been especially designed for children and are on the cutting edge of technological advances both from the standpoint of equipment as well as the range of therapies conducted.



Common Congenital Cardiac Disorders
---
Atrial Septal Defect (ASD)

Ventricular septal defect (VSD)

AV canal

Transposition of the great arteries

Tetralogy of Fallot

Aortic stenosis

Pulmonic stenosis

Coarction of the aorta


Pediatric Cardiac Diseases
---
Rheumatic fever

Kawasaki disease

Myocarditis

Endocarditis

Pericarditis


Tests
---
ECG
Echocardiography
Fetal echocardiography
Stress test
BP Holter
Diagnostic catheterization
Therapeutic catheterization
Electrophysiological catheterization


Referrals

---
Tel: 03-9253715
Meuhedet, Maccabi and Leumit Health Fund members, a referral letter from the attending physician should be faxed to: 03-9253146
First-time appointments, a referral letter from the attending physician should be faxed to: 03-9253146