Skip page content
The Institute of Audiology and the Institute for Language, Speech, Voice and Swallowing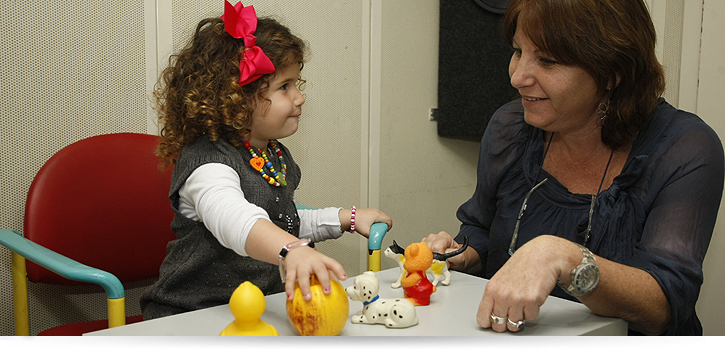 Speech Therapy at Schneider Children's provides a broad range of advanced services for all communication disorders including hearing, language, speech, communication, voice and swallowing.
The Institute for Language, Speech, Voice and Swallowing
---
The Institute operates as part of the communication clinicians sector and conducts diagnosis and treatment to outpatients, alongside consultations within the hospitalization department.

Director of the Institute
Dr. Oshrat Sela Weiss
Speech Therapists
Ahmad Badir
Esther Resnick
Efrat Savyon Sosonkin
Georgina Cohen Gordon
Daniel Stuchiner
Chen Tomer
Tali Greenstein
Yifat Nitzan
Liat Cohen Avigdor
Lilach Hershko
Michal Rosman
Miriam Peled
Neta Barkan
Nitza Ziskind
Nancy Eli
Naama Hirshbein
Naomi Forman
Salim Hajj
Adi Tzuk
Ruti Weigler
Shachar Arussi
Shira Bar
Sharon Gorman
Tamar Rosenblatt
Appointments
Tel: 972-3-9253210
Administration
Hagit Zaviv, Sec'y, Institute of Audiology, and Language, Speech, Voice and Swallowing
Tel: 03-9253346
Fax: 03-9253941
Email: [email protected]
Hours: Sunday to Thursday, 08:00-15:00
Michal Malka, Cochlear Implant Coordinator
Tel: 03-9243991
Whatsapp Implant Clinic: 050-4057177
Hours: Sunday to Thursday, 07:00-14:00 (No phone service on Sunday)
Bella Brodsky, Sec'y, Cochlear Implant Service
Tel: 03-9253994
Whatsapp Implant Clinic: 050-4057177
Hours: Sunday to Wednesday, 08:00-12:00, Thursday 12:00-15:00
Lea Koenig, Sec'y, BERA and Hearing Tests
Tel: 03-9243348
Hours: Sunday to Thursday, 08:00-15:00
Medical Services

---
Outpatient Services
Services are provided to children from 0-18 in the following fields:
Evaluation and treatment of language and communication disorders from birth until the age of 6 years following referral from the Institute of Child Development
Complex speech disorders
Eating, swallowing and speech in children with cleft palate
Evaluation and therapy for voice disorders
Evaluation and therapy for eating difficulties
Multidisciplinary Clinics
Speech Therapists work jointly with doctors and other health services personnel in clinics for:
Cleft Palate
Drooling
Voice, swallowing and breathing
Breathing and digestion
Inpatient Department
Evaluation, therapy, consultation and guidance are provided to medical teams in all inpatient departments, to hospitalized patients and to their families following requests from personnel.
Cochlear Implant Service
This is a joint service provided by the communications team and the Otolaryngology Department. Clinicians are highly experienced and skilled in dealing with patients following cochlear implants.
The cochlear implant program at Schneider Children's starts with an initial consultation and evaluation for suitability, followed by surgery conducted by a veteran and skilled team of otolaryngologists. After a process of scanning, speech therapists arrive at the optimal placement of the implant processor for the child.
In order to maximize the child's capability to process and hear information, hearing rehabilitation extends over the first year post-op, with periodic check-ups thereafter including hearing tests as needed. Close collaboration between the different arenas ensures tailor-made solutions are adapted to each and every patient.
Speech therapists provide outpatient care for cochlear implant recipients until age 18 and for adults over age 18 in cases requiring implant scanning and hearing training for children.
The Institute of Audiology
The Institute of Audiology conducts a range of services and tests:
Examination of behavioral hearing until age 18
Tympanometry test
Acoustic reflex test
Otoacoustic emission (OAE)
The Institute is equipped with advanced instrumentation that accords comprehensive hearing tests. Speech therapists are highly trained to conduct hearing tests in children with a complex medical history.
BERA (Brainstem evoked response audiometry) Tests
BERA tests objectively evaluate hearing ability. Tests assess hearing threshold and provide information about the pathways of sound from the ear to the brain stem without any need for participation of the patient. The test is performed and interpreted by experienced communications technicians.
BERA tests without sedation can be done during natural sleep in children aged up to 5 months and those over 5 years. BERA tests with sedation are done for children from 6 months to 5 years. Sedation is administered by a qualified nurse.
Vestibular System Tests
The vestibular system refers to the balance in the inner ear. Vestibular tests are conducted by experienced clinicians using sophisticated instrumentation in children from age 6 who can cooperate and respond to appropriate criteria during the test. Tests are also provided to adults with cochlear implants.
The test is carried out in cooperation with the special balance clinic in the hospital staffed by ENT specialists, speech therapists and physiotherapists.
Two key tests are conducted:
The video Head Impulse Test (vHIT) evaluates the semi-circular canals in the vestibular system utilizing the vestibule-ocular reflex (VOR), which balances sight during head movement, ie. the test assesses the ratio of eye movement to head movement.
The Vestibular Evoked Myogenic Potentials Test (VEMP) evaluates the function of the vestibular nerve which transmits sound and equilibrium (balance) information from the inner ear to the brainstem. Two VEMP tests are conducted in the cervical muscles and ocular muscles.
Hearing Tests for Newborns
Schneider Children's conducts hearing tests for all premature infants and newborns hospitalized in the Neonatology Department. This accords early detection of infants suffering from hearing disorders. Early identification prompts early rehabilitation.
Two hearing tests are performed in premature infants:
Otoacoustic emission (OAE), which measures responses coming from the inner ear organ (the cochlea)
Automated Auditory Brainstem Response (AABR), which measures responses coming from the cochlea as well as the auditory brainstem, as sound travels up to the brain.
Surrogate babies or home birth babies can undergo OAE tests at Schneider Children's.