Skip page content
Amichai Rubin z"l granted life to Rafael
There was not a dry eye in the room during an emotional meeting that took place between the family of soldier Amichai Rubin z"l and the family of Rafael Horowitz, 8, who received his liver lobe
Date: 26.10.23 | Update: 30.10.23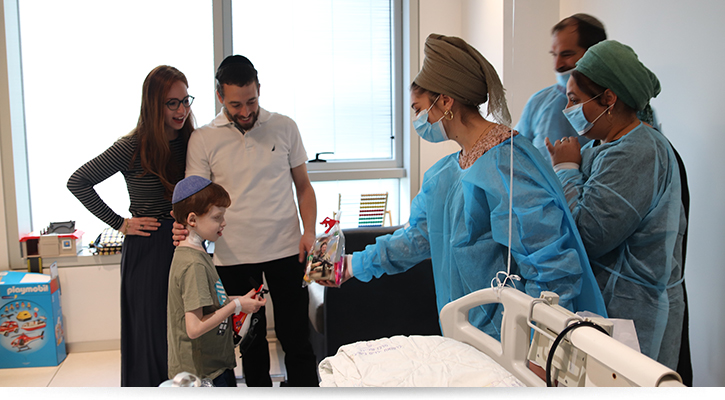 Participating in the meeting were Amichai's parents and siblings, who presented Rafael and his parents with the gift of a wooden block containing photos of Amichai. Dorit, Rafael's mother, hugged Batya and gave her in return a string of Amichai's photos with the caption "Mom's Hero". Dorit said that "this is a precious gift for you. We received from you your most precious gift of all." She added that "we have another younger son at home, and today he is celebrating his 3rd birthday. He has a kind of rolling laughter, and Rafael over time, because of unremitting pain, stopped being happy. After the transplant, Rafael suddenly started to laugh." Dorit said that Rafael was very excited about the meeting and wanted to show them so many things and ask them whether Amichai had been a naughty child.
Ishai Rubin, Amichai's father, responded that "we were so moved when you spoke of the significance of the liver donation and the good virtues of man, because Amichai truly had a huge heart. Through Amichai's joie de vivre, Rafael will be a happy child."
Two weeks ago, Rafael successfully underwent transplant surgery of a matching liver lobe donated by the family of soldier Amichai Rubin, z"l. Rafael, 8, who suffered from a severe liver disease since infancy, needed an urgent liver transplant following a deterioration in his condition. He received the gift of life with the transplant after which he was hospitalized in the Pediatric Intensive Care Unit at Schneider. He remains in follow-up care and recovery in the Department of Pediatrics C until he can be discharged.
Amichai Rubin z"l, was among the first who attacked with a weapon when the murderous assault of Hamas terrorists began. He was hit by a bullet in his head, and despite his injury, he continued to fight to save his friends fighting alongside him, until he collapsed. Doctors at Hadassah Hospital were unable to save him. Amichai's family agreed to donate his organs, which gave renewed life to 5 people. His mother said after the transplant that "when Amichai left to save lives, he did not know how many lives he would really save."
Dr. Michael Gurewitz, Director of the Liver Transplantation Unit at Schneider Children's, noted that "there are no words to describe the emotions of the operating room team in these complicated situations. The notification that a soldier saved lives through his own death is disquieting. While sirens are ongoing, we are busy saving a child's life, and appreciate the privilege given us. Each child is an entire world, and we are dedicated to giving life and fighting for the lives of each and every one."
Schneider Children's conducts the majority of organ transplants in children in Israel. Since its inception, more than 700 heart, lung, liver and kidney transplants have been performed in children with a rate of success on a par with leading institutions in the world.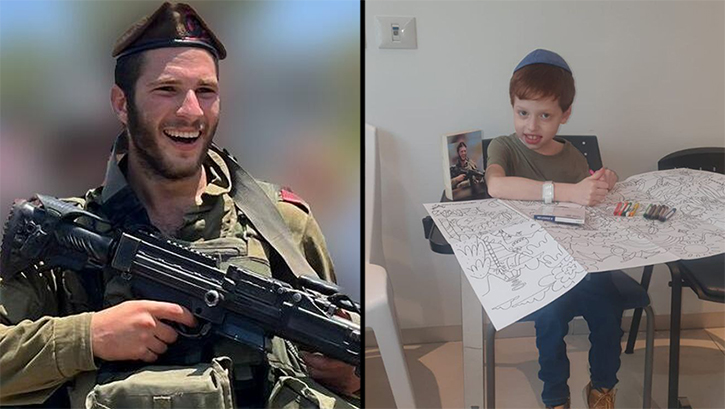 Left to right: Amichai Rubin z"l and Rafael