Skip page content
Schneider at Home
Online lectures, free of charge, on topics of interest to parents of children from infants to adolescents, will be presented by Schneider experts every Tuesday at 21:00 from October 17, 2023
Date: 10.10.23 | Update: 10.10.23

The webinar series by Schneider Children's consultants and directed towards parents will return for the winter 2023 season. From October 17, 2023, and every consecutive Tuesday evening at 9pm, webinars will be presented by Schneider's leading consultants in their fields on topics of interest to parents of children from newborns until adolescents.
What is important to know about winter illnesses in children?
What are the significant milestones in a child's development?
How is ADHD diagnosed in children?
What are the common digestive disorders in infants and toddlers?
How to deal with a child's anxieties and fears?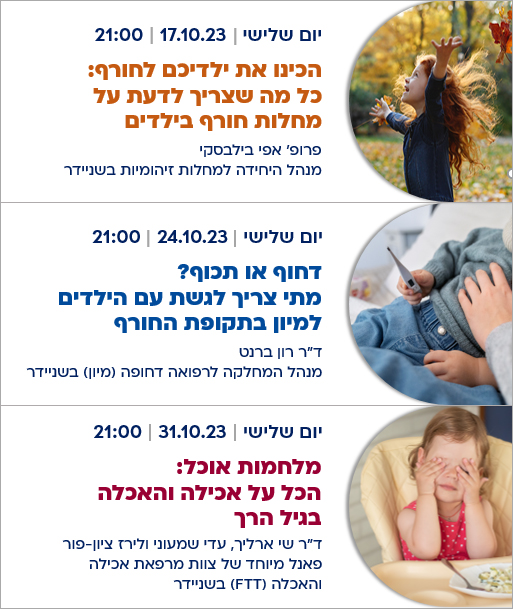 Presentations on these and other subjects will be given within the framework of the webinar series, "Schneider at Home", free of charge.
Just as Schneider Children's has changed the face of pediatrics in the country from one end to the other since its inception, so too will the hospital continue to raise the bar in order to achieve the next "above and beyond" to benefit children and their families. The hospital has spearheaded a new paradigm in pediatric care together with a progressive outlook, which sees the child here and now alongside a vision of the future where the child will grow into a healthy adult.
As part of this vision, we have created "Schneider at Home", where a series of online lectures (in Hebrew) are given in order to provide accessible, authentic and current facts to parents in Israel and abroad, to advance health and to ensure that the children of today become the healthy adults of tomorrow.
Schneider Children's is the one and only tertiary medical center of its kind for children in Israel where the full range of pediatric specialties are concentrated. The hospital serves as a referral center for children from all over the country and from many other neighboring countries, and provides advanced and innovative medical care. Its centers of excellence are globally renowned.
Earlier this year, the glass building was opened – Schneider Children's new building which doubled the number of inpatient beds enabling the hospital to care for many more children within and outside of Israel. The glass building has set a new standard in hospitalization for children and their families.
Links for the online Hebrew webinar series can be made through a private and focused
whatsapp group
.