Skip page content
Rare Cerebral Aneurysm
A cerebral aneurysm is a very rare event in children, and in Yahel's case, required emergency neurosurgery. Some 2%-4% of the population suffers from aneurysms but most never burst
Date: 01.10.23 | Update: 02.10.23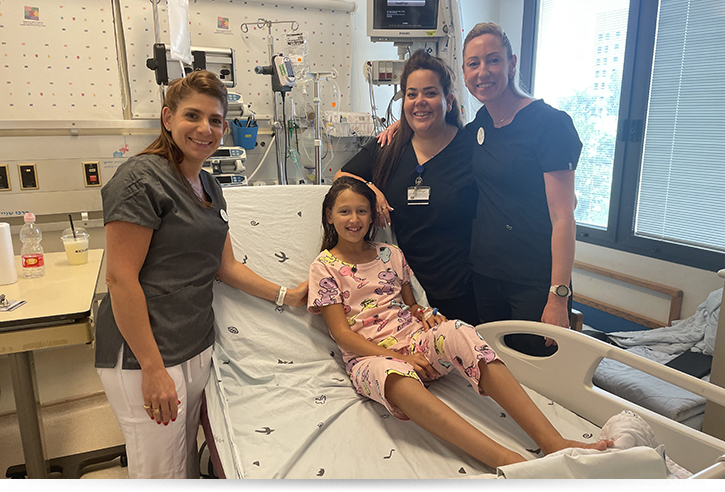 Yahel Landau, 11, from Elkana, arrived at Schneider Children's two weeks ago in a critical condition, having lost consciousness at home before which she had complained of a very painful headache. A CT revealed a cerebral aneurysm, a dangerous and rare condition in someone her age. She was rushed to surgery and underwent a successful procedure whereby a tube was inserted into her brain guided by a navigation network, which drained the blood and relieved the pressure in her head.
A cerebral aneurysm is a tear in the blood vessels leading to hemorahagging, an exceptionally rare occurrence in children, while more common in adults. Some 2%-4% of the population suffers from aneurysms but most never burst. The cause of aneurysms is mainly infection, injury, or a genetic disease that weakens the blood vessels in the brain, but in Yahel's case, none of these factors was identified. She is a very healthy child.
Yossi Landau, Yahel's father, said that "Yahel was at home with my wife and fainted. An ambulance took her to Schneider Children's. Consciousness returned very gradually but her condition deteriorated and she began to become confused. After some tests, we understood that Yahel had an aneurysm and she underwent emergency surgery. She is a healthy child and this landed on us from nowhere. We are very grateful to the medical team that saved her life. We received the gift of her life back on her 11th birthday."
Dr. Ido Ben Zvi, senior neurosurgeon at Schneider Children's, noted that "the type of pain Yahel complained about raised suspicions so we did a CT of her brain, an saw the bleeding in the brain tissues characteristic of an aneurysm. Another CT was performed with contrast medium which confirmed our diagnosis. We intended to conduct a catheterization to close the aneurysm, but her condition worsened and she became confused and recessed. Another review of the CT showed that the brain ventricles had enlarged probably due to the bleeding, which caused significant pressure in her head, a life-threatening condition. So we performed an emergency operation to neutralize the pressure after which she was out of danger. A catheterization followed to close the aneurysm. Yahel will remain under observation so that we can ensure no further repetition in the near future."
Dr. Ben Zvi cautioned all parents: "If your child complains of a very severe headache from 0-100, go to the emergency department. This is indeed a suspicious sign."