Skip page content
Marathon Organ Transplants
A 3-year-old boy received a heart, a 6-year-old girl received a liver, a 4-year-old boy received a kidney as did a 13-year-old youngster in a marathon of organ transplantations conducted at Schneider Children's
Date: 17.08.23 | Update: 21.08.23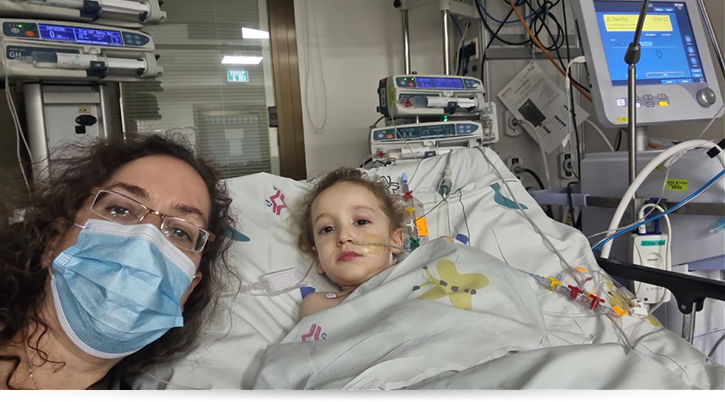 Heart recipient, Ofek, and his mother
Four children received the gift of life following organ donations: A 3-year-old boy received a heart, a 6-year-old girl received a liver, a 4-year-old boy received a kidney as did a 13-year-old youngster in a marathon of organ transplantations conducted over 24 hours in the operating rooms at Schneider Children's. The heart recipient is recovering in the Cardiac Intensive Care Unit at Schneider, while the other three are recovering in the Pediatric Intensive Care Unit at Schneider.
Dr. Ofer Schiller, senior physician in the CICU said that "throughout the long night of marathon transplants that took place in the operating rooms at Schneider Children's, 3-year-old Ofek Cohen, who had been hospitalized in the CICU for several months while waiting for a heart donation, received a new heart. Ofek arrived at the hospital with heart failure and was connected to a Berlin Heart (an artificial pump) as an interim measure. The news of the heart donation reached us by surprise, and as with every transplant of this kind, it generated great excitement alongside sadness for the donor's family. The courageous parents of a child who had died so tragically granted Ofek and his family a miracle, and a chance for him to live."
Ronit, Ofek's mother, added that "there are no words to describe the immense emotion I felt when I was told that a heart had been found for Ofek. The realization of the dream that I dreamt and prayed over the past few months came true. Waiting for a heart and the harsh uncertainty are difficult to endure and I am enormously grateful to the amazing family who in their most difficult hour, chose to grant my child life. This is the finest gift that we could have received for the rest of our lives."
Schneider Children's is among the few pediatric hospitals in the world capable to performing a large number of organ transplants. In order to conduct four complex transplants one after the other in a short space of time, special preparedness is required by the medical teams – among them operating room staff, pediatric organ transplant surgeons, cardiologists, anesthetists, ultrasound technicians, nurses and intensivists.
Schneider Children's conducts the majority of organ transplants in children in Israel. Since its establishment, more than 700 heart, lung, liver and kidney transplants have been performed in children and youth with rates of success on a par with leading medical centers in the world.