Skip page content
Lung Transplant Saves Aya's Life
14-year-old Aya suffered from cystic fibrosis and was in a race against time when news was received about a donation
Date: 08.08.23 | Update: 22.08.23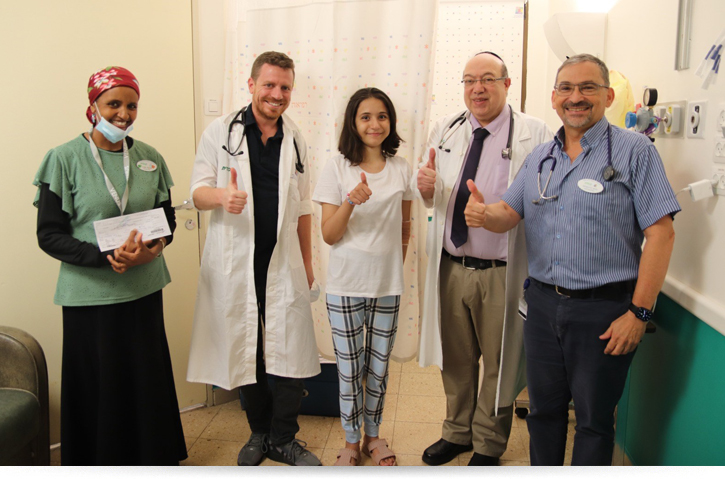 L-R: Shoshana Amara, Social Worker, Dr. Eyal Yaacobi, post-surgical specialist, Aya, Prof. Mordechai Kramer, Director of Pulmonology at Beilinson and Prof. Dario Prais, Director of Pulmonology
14-year-old Aya suffered from severe cystic fibrosis, and was in a race against time with her failing lungs when exciting news was received about the donation of suitable lungs. In a complex operation that ensued 12 hours, Aya received a new lease on life following the lung transplant at Schneider Children's.
Cystic Fibrosis (CF) is a genetic disease that affects many body systems and can lead to significant and irreversible damage of the lungs. Since 1997, 28 lung transplants have been performed in children in Israel through the lung transplant program at Beilinson and Schneider hospitals. The majority of recipients suffered from CF. Transplantation of lungs is the most uncommon of all organ transplants in general and in children in particular.
Aya is a resident of east Jerusalem and had been in treatment at Hadassah Hospital since a young age. In spite of the dedicated care by the medical team, her condition deteriorated and she was hospitalized frequently due to recurrent infections with no response to treatment. Aya was placed on the waiting list for a lung transplant and admitted to Schneider Children's when the news of the lung donation was received. As a token of gratitude, she cut her long hair in order to donate it to a child with cancer. In addition to Aya, there are 4 other children at Schneider Children's who are waiting for an urgent lung transplant, among them a 4-year-old boy.
The transplant process is managed in cooperation with Beilinson Hospital which centralizes the lung transplantation program in Israel, under the leadership of Prof. Mordechai Kramer, Director of Pulmonology. The Beilinson team which participated in the transplant surgery comprised Dr. Yuri Feischovich, Director of the Cardiothoracic Surgery Department, Prof. Dan Arvut, Director of the Cardiothoracic Surgery Division, and Dr. Yisrael Koznitz, Director of the Minimal Invasive Surgery Service withint the Cardiothoracic Surgery Division. Schneider's anesthesiology team included Dr. Yelena Tzeitlin, Director of Anesthesia and Dr. Haitam Hamuda.
Post-surgical care was supervised by Dr. Eyal Yaacobi, senior pulmonologist at Schneider Children's and responsible for pediatric lung recipient's follow-up care. Dr. Yaacobi is the only pediatric lung transplant specialist in Israel. He underwent advanced training in pediatric pulmonology and subspecialized in pediatric lung transplantation at SickKids in Toronto, which has one of the largest programs in the world.
Dr. Yaacobi said that "the main criterion for placing a patient on the transplant list is the existence of terminal chronic lung disease, where treatment has been exhausted and where there is a real threat to life. In Aya's case, she underwent many hospitalizations over the years with a significant deterioration in lung function despite maximum care.
"During the past 6 months, two lung transplants were conducted in children within the framework of our program – a particularly significant achievement, since larger global centers report an average of 4 transplants a year. Children suffering from severe chronic lung disease are referred to the pediatric lung transplant program from all over the country, in order to undergo evaluation to be placed on the waiting list. Since lung transplantation in general and in children in particular is a relatively uncommon procedure compared to other organ transplants, an experienced team of medical specialists centralize care. Coping with the basic disease and accompaniment before, during and after the transplant demands an available, dedicated and focused team for children.
"We would like to thank the courageous family who agreed to the donation at the most difficult of times and thus saved Aya's life. I would also like to thank the team in the Pulmonology Institute at Schneider Children's, headed by Prof. Dario Prais, for their assistance and support, as well as the teams at Beilinson and Hadassah hospitals for their fruitful cooperation. Aya still has a long way to go but she is making good progress and we are very hopeful. The field of pediatric lung transplantation is dynamic, and in comparison with previous years, we are witness to the increase in life expectancy and of course the huge improvement in the quality of life post-transplantation."
Prof. Kramer noted that "Aya arrived at the hospital in a critical condition with terminal CF. Without the lung transplant, her time would have been short. Through the goodness of amazing people who made a heroic decision, Aya's life was saved. Lung transplantation always excites me and especially in a youngster whose life is still ahead. When Aya decided to return the favor by donating her hair to a child with cancer, I realized yet again that when we do good, we receive good in return. We have conducted 920 lung transplants in our hospital; Aya is the 28th child to have undergone the operation."
Dr. Feischovich added that "lung transplantation is one of the most complex operations which includes removal of the impaired lungs and connecting the patient to a heart-lung machine (ECMO). This requires expert skill on the part of the surgeons who need to connect the new lungs and blood vessels to ensure a perfect launch of the graft so that it will be accepted and function in the most optimal way."
Aya's mother said that "I have no words to express my thanks to the teams who treated Aya with endless dedication. We were gifted Aya's life back, and we are indebted to you all for that. Aya was very emotional about the courageous act of the family who donated the lungs, and decided that she too wanted to give back to the world. After her recovery from the operation, she asked me to cut her long plait so she could donate it to a girl with cancer. We hope that Aya will recover quickly and wish excellent health to all the children in Israel."