Skip page content
3D Interactive Examination Room for Children
For the first time in Israel, Schneider Children's has begun to operate an examination room within an interactive 3D environment for the benefit of patients
Date: 07.08.23 | Update: 09.08.23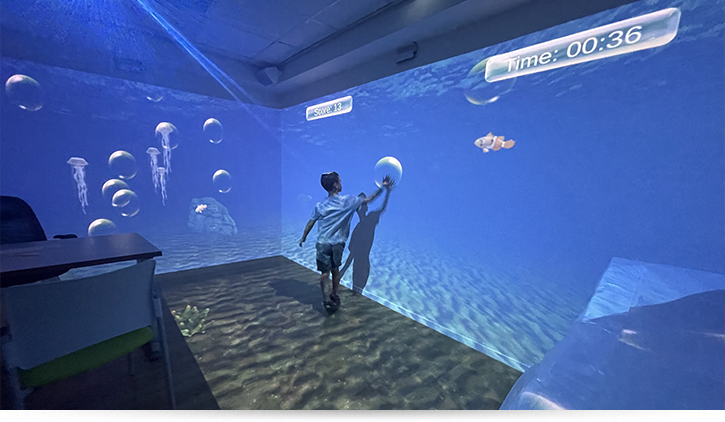 For the first time in Israel: Schneider Children's has opened a one-of-its-kind examination room set within an interactive 3D environment for the benefit of patients. The room is an immersive area allowing children to experience various scenarios through stimulation of the senses, thus distracting them from any procedure or test by reducing their level of anxiety.
The 3D room, developed by Totally Interactive, uses innovative technologies such as interactive screens which are reflected on a wall, floor, ceiling or table; various types of sensors; holograms; and more. The technology can also produce different scents, changes in temperature and wind. The system is comprised of four projectors, seven sensors and cameras directed towards three walls and the floor, which display 3D scenes such as seen through virtual reality glasses, promoting joint fun with others present in the room.
The platform contains a pool of games on different topics and fields, quizzes, mind games, movement, memory, simulations, and competitions. Each participant can create his or her own game according to preference, level and age. The space reacts to each child's movement and creates a virtual game or learning experience that draws the child into endless virtual reality arenas. The experience is gained through the sense of sight, touch and body movement, enhanced with physical and digital sound effects.
Adi Reinzilber, Administrative Director of Schneider Children's, stated that "the aim for using the room is to enable patients to choose an environment where they will be examined while according full eye contact with the medical team and particularly with the parents, as opposed to other existing distraction measures or anxiety-reducing methods such as virtual reality glasses. In addition, over and above the treatment or test in the room, the system allows us to explain and demonstrate in the most illustrative way, the medical procedure the child is to undergo such as surgery. Schneider Children's is the first center in Israel to open this type of room. Hospitals around the world use this room for training medical staff, but this is the first that has been opened as a room for tests allowing the patient to decide on his therapeutic environment."
Ms. Reinzilber added that "we, at Schneider Children's, believe that children are not small adults and therefore we relate to them differently in the medical sphere. This approach is in fact applied to everything we do, from speaking the child's language that has been developed especially for and adapted to them, through creating a warm and friendly setting, encouraging the family to be involved in the treatment, and promoting social activities, to ensuring a multidisciplinary team dedicated to the medical, emotional and social needs of every child. In this way, we can grant each child an experience with real added value, so that his memory of hospitalization will be as positive as possible. The patients who will enter this room will now be able to play, touch the walls and conjure up imaginary figures, and perhaps forget for a short while the real reason he is in hospital."