Skip page content
Birthday Surprise
Zlata Karfik, a patient at Schneider Children's for more than a year, received a special surprise on her 12th birthday – an exhibit of her paintings in the entrance lobby of the hospital
Date: 08.05.23 | Update: 09.05.23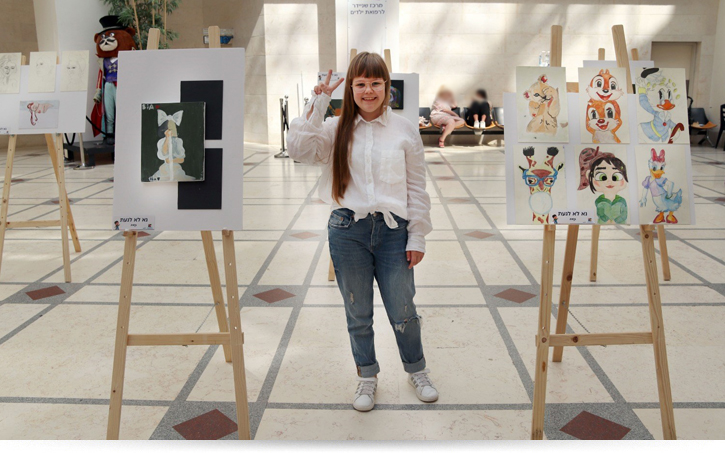 Zlata was born in Ternopil, Ukraine, and was diagnosed with a head tumor at the age of one year. When the war started in Ukraine, she was rescued by Schneider's medical team sent to Poland in order to bring children to Israel who needed life-saving care. This was her second birthday away from her family who have remained in Ukraine.
Zlata is being treated in the Oncology Department and the medical team not only discovered a lovely child but also an extraordinarily talented artist. Her paintings help her to pass the time between treatments and allow her to express herself better through her art. She had told the team about her dream of having her paintings displayed in the Louvre Museum in Paris, which gave birth to the idea to surprise her on her birthday with a display in Schneider. Zlata, who was accompanied by her mother to the hospital, was very excited to see the display and thanked everyone who participated in the special gift. In addition to the exhibit, she received a framed picture of her painting of the Mona Lisa, which she particularly loves, and awaits the day when she will be able to see the original in France.
Dr. Efrat Bron-Harlev, CEO of Schneider Children's, noted that "we practice optimistic care at Schneider Children's. We believe that the recovery process of children is not only dependant upon the treatment of the illness but also upon reference to the child's healthy side, and we accomplish this through enrichment in music, literature and art. The idea behind the exhibit is to empower and strengthen Zlata by sharing her talent. At the same time, we have created a unique experience at the entrance to Schneider which attracts curiosity and instills calm and comfort to those coming into the building. It is also an opportunity for multicultures to meet and expose the public to the world of diverse art. We wish Zlata all the best, much health and may all her dreams come true."