Skip page content
Tribute to Dr. Michael Segal
On the occasion of Doctors Day in Israel, an exciting tribute event took place last week for doctors working in the five medical centers in Petach Tikva
Date: 17.01.23 | Update: 18.01.23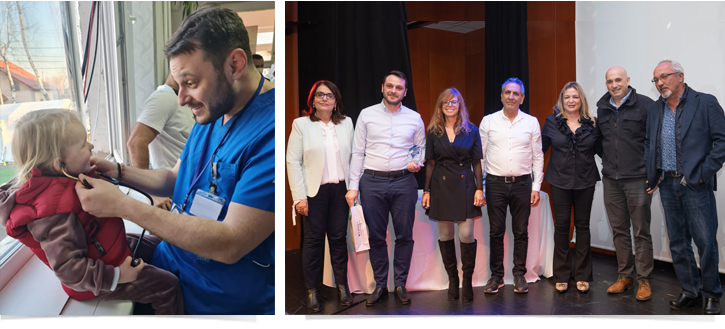 On the occasion of Doctors Day in Israel, an exciting tribute event took place last week for doctors working in the five medical centers in Petach Tikva: Beilinson Campus, Sharon Hospital, Geha Hospital, Beit Rivka Medical Center and Schneider Children's Medical Center of Israel. Outstanding doctors were selected by the hospitals and medical health organizations, and were presented with tributes by representatives of the hospitals.
The recognition for the doctor from Schneider Children's was presented to surgeon Dr. Michael Segal, who was born in Kyiv and immigrated to Israel a decade ago. When the war in Ukraine broke out a year ago, Dr. Segal was part of the medical team from Schneider Children's which flew to Ukraine to set up the pediatric section in the Israeli field hospital. He assisted many children needing medical care and even performed an emergency operation on a youngster. Dr. Segal said of the trip to Ukraine that "this was an endeavor that closed the circle for me, and it was a huge privilege to participate in this undertaking. I completed all my medical studies in Ukraine and therefore it was meaningful to help them. The objective of my role was to help people, especially during this mission."
Rafi Dahan, Deputy Mayor, thanked the doctors for their efforts in the city and added, "doctors are the spearhead of Israeli society; they are responsible for the public's health; they work day and night on behalf of patients, and accompany them with professionalism, diligence and impartiality. This is an exciting evening and an excellent opportunity to say a huge thank you to them on behalf of the city's residents."
Dr. Omer Niv, Deputy Director of Schneider Children's, and Dr. Dragan Kravarusic, Director of the Surgery Department, presented the award to Dr. Segal. Dr. Niv said that "when a child comes to the hospital, he is accompanied by his parents, who are stressed, uncertain and very worried. Under these circumstances, the encounter with the medical staff in the hospital is very significant and an event that is engraved in their memories for a long time thereafter. Throughout his 5 years at Schneider Children's, Dr. Segal met with hundreds of children and their parents, often during the most difficult and challenging moments of their lives. His optimism, openess, compassion and sensitivity, alongside his professionalism, left a mark among many families and serves as an inspiration among his colleagues and young residents alike. Michael is unafraid of professional challenges and even when working under extreme pressure, he remains sensitive and attentive to the children and their parents."