Skip page content
Schneider Children's Lauded
Gratitude was expressly aimed at Schneider Children's by the director of the Kyiv hospital and the Polish Minister of Health at the recent ECHO meeting in Warsaw
Date: 05.12.22 | Update: 05.12.22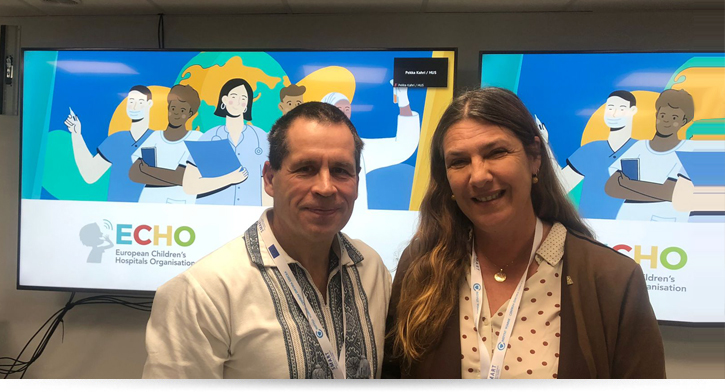 ECHO (Europe Children's Hospitals Organization) met recently in Warsaw. Dr. Efrat Bron-Harlev, CEO of Schneider Children's as a member of ECHO, participated in the gathering last month and met with the directors of children's hospitals from all over the world.
During the event, Dr. Harlev met with the director of the hospital in Kyiv, Vlodimir Zchovnir, from where children were rescued in the war zone and brought to Schneider Children's for life-saving care. Zchovnir spoke at length about the trials of the Ukrainian citizens since the start of the war with Russia and expressed his appreciation for all efforts to help, particularly for the immediate assistance provided by Schneider in transferring sick children who were unable to obtain treatment there. The Polish Minister of Health, Adam Nidjileski, who attended the event, told of the efforts by the Polish government to help Ukrainian children and also thanked Schneider for their cooperation in transporting children with complex conditions to a safe place.
Dr. Bron-Harlev noted that "during this exciting gathering that was focused totally on children's health, I met Vlodimir Zchovnir, CEO of the Kyiv hospital, the one that was bombed at the beginning of the terrible war that Russia has imposed upon Ukraine. Last March, we received an appeal to assist the bombed hospital in Kyiv where there was fear for the lives of the children hospitalized there. Schneider Children's responded at once resulting - after a complicated process - in the hospitalization of 10 children from Ukraine with various complex conditions who would not have survived without treatment.
"Regrettably, there is no other children's hospital in ECHO which can understand the significance of treating sick children under fire and the need for protected areas in a hospital replete with the broad multifaceted advanced emergency experience during times of war. I am proud to stand at the head of a hospital that can offer assistance to others also in times of peace as well as war, and is willing to go "above and beyond" to save every child wherever he or she may be."