Skip page content
First Int'l Fetal-Neonatal Cardiovascular Conference in Abu Dhabi
Schneider Children's made history again by co-opting the first cardiovascular disease conference that took place in Abu Dhabi
Date: 31.10.22 | Update: 05.12.22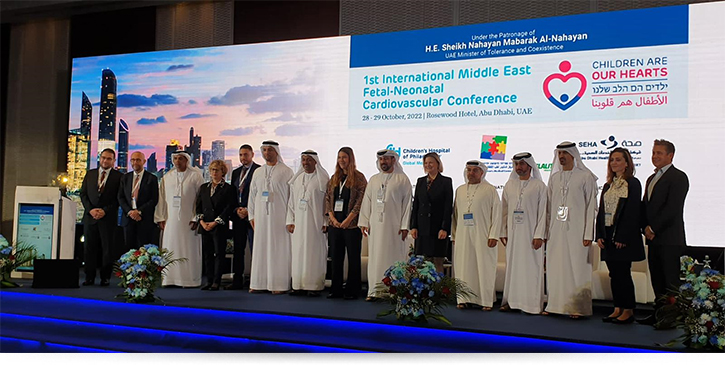 The Conference was the joint initiative of Jack Rychik, leading pediatric cardiologist at the Children's Hospital of Philadelphia (CHOP), and Prof. Einat Birk, Director of the Cardiology Institute at Schneider Children's, together with SEHA, the largest health organization in Abu Dhabi.
Representatives from 59 countries world-wide participated in the conference focusing on diagnosis and treatment of cardiovascular diseases in the fetus and newborn, which took place in Abu Dhabi at the end of October. Attendees included some 300 participants representing multidisciplinary fields of cardiology, gynecology, intensive care, neonatology, anesthesia and others belonging to the all-encompassing medical specialties which treat fetuses and newborns with heart defects. An additional 800 professionals participated virtually online.
Prof. Birk headed the delegation from Schneider Children's to Abu Dhabi, which comprised senior specialists from the Cardiology Institute, Neonatology and Neonatal Intensive Care, Genetics and Anesthesia. Joining the delegation was Dr. Efrat Bron-Harlev, CEO of Schneider Children's. The President of Israel, Yitzhak Herzog, sent video greetings which were screened at the conference.
The conference organized by the Corniche Hospital and the Sheikh Khalifa Medical Center (SKMC) in Abu Dhabi was made possible due to the historic Abraham Accords signed two years ago that promoted cooperation in health, medical education and research in the United Arab Emirates.
The aim of the conference in which both local and international specialists participated, was to discuss the latest developments in treating cardiovascular disorders in the fetus and newborn. The event covered a large range of topics such as the genetics of cardiac disease; imaging of the fetus and newborn; review of specific fetal cardiovascular conditions; care of the newborn with cardiac disease including surgical interventions; and the social aspects and long-term results of congenital cardiac defects in the Middle East.
Said Jabber Al Kviti, CEO of SEHA, said that "cardiovascular treatment of fetuses and newborns is a specialized field according broad leeway for collaboration with several medical specialties. The many specialties falling within this field have transformed this conference into a rich blend of skill and knowledge. There has been a rise recently in the pediatric population in the Middle East, resulting in the need to increase focus on prenatal healthcare. We would like to express our gratitude to the Children's Hospital of Philadelphia (CHOP) and Schneider Children's Medical Center of Israel for their support in organizing this important event."
Representatives of CHOP said that "we were pleased to collaborate with SEHA and Schneider Children's Medical Center of Israel in order to advance this event which we believe will provide our participants with opportunities for networking, sharing knowledge and information, as well as prompting relevant discussion of the present and future focus on cardiovascular care in the fetus and newborn."
Dr. Bron-Harlev added that "the Abraham Accords that were signed between Israel, the United Arab Emirates and other neighbors in the Middle East created new opportunities for collaboration in the field of pediatrics and children's health, which are expressed by sharing of professional knowledge, improved patient experience and continued training with the aim of granting the best professional care to every child wherever he or she is. These agreements embody the potential of large hidden profit in international collaboration in general and in health in particular."
Dr. Harlev further noted that "a conference such as this that links many cultural and geographical worlds has more than proven that children are the key to join people and that children are above and beyond – above and beyond religion, race and nationality. Our responsibility regarding children is not only to ensure that they are healthy children, but through new technologies, big data, genetic research and other possibilities available today, we are also accountable that the children of today will become healthy adults of tomorrow. Here in Abu Dhabi, representatives of SEHA, CHOP and Schneider are making history. We are transforming the world into a smaller place, closer and much safer for our children because children are our heart, and children are our future."