Skip page content
Mel Larussa, Managing Director of the Innovation Center
Mel Larussa has been appointed Managing Director of the Innovation Center at Schneider Children's which was established this year
Date: 31.10.22 | Update: 05.12.22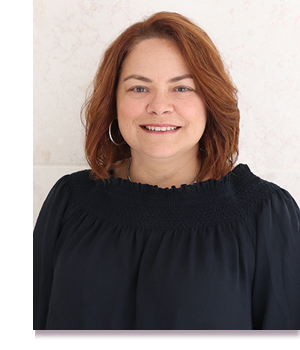 Mel Larussa has been appointed Managing Director of the Innovation Center which was established at Schneider Children's this year. She joins Dr. Sivan Ahituv, Deputy Director of Schneider Children's who serves as the hospital management's point-person regarding innovation, Dr. Patrick Staffler, Medical Director of the Innovation Center, and Sarit Beitan, Director of Nursing Innovation.
Larussa, 49, a mother of three from Petach Tikvah, was born in Brazil and immigrated to Israel 20 years ago. She holds a BA in Biology from the San Paulo University, an MBA from the Open University and an MA from the Brazil University. At this time, she is writing her thesis as part of her second MA degree in Nutrigenetics and Nutrigenomics Monilia in Brazil.
Larussa has more than 15 years of experience in business and innovation development, market and strategy analysis, regulation, building business models and more, and she specializes in the development of joint endeavors in the fields of science, biotech and pharma. She previously served as a member of the directorate in a number of biotech companies, and participated in the establishment of over 20 leading start-ups.
Ms. Larussa stated that "I am proud to join Schneider's Innovation Center, which will assist in the development of fast, simple and clear tracks for communication with the hospital, and advance partnerships for specialists, clinical fields and research labs."
Dr. Ahituv added that "we are pleased that Mel Larussa has joined the Innovation Center, the only one of its kind for children in Israel and among the few in the world, and we are sure that her rich experience will enable us to fulfil the vision of the Center – to transform children of today into healthy adults of tomorrow.
"In addition, today we know that the roots of most diseases in young adults are triggered in early childhood. The Innovation Center at Schneider will advance investigation of children's health in the processes that lead to these diseases. Our aim is to take advantage of technology, computers, scientific and molecular knowledge that are expanding at a rapid rate, in order to identify the causes for morbidity and to propose prevention from an early age. Over the past decade prior to the establishment of the Innovation Center, the hospital dealt with the establishment of start-up companies and partnerships with Israeli and international ecosystems. The Innovation Center under the leadership of Mel Larussa will enable us to leverage existing endeavors and to reach new and fascinating worlds of untold value to pediatrics in Israel and world-wide."