Skip page content
Guests of Honor at Jordanian Wedding
Prof. Dario Prais, Director of the Institute of Pulmonology at Schneider Children's, and Prof. Hannah Blau, founder and former director of the Institute, were guests of honor at the wedding of 23-year-old Faraz from Jordan who suffered from Cystic Fibrosis (CF)
Date: 23.10.22 | Update: 25.10.22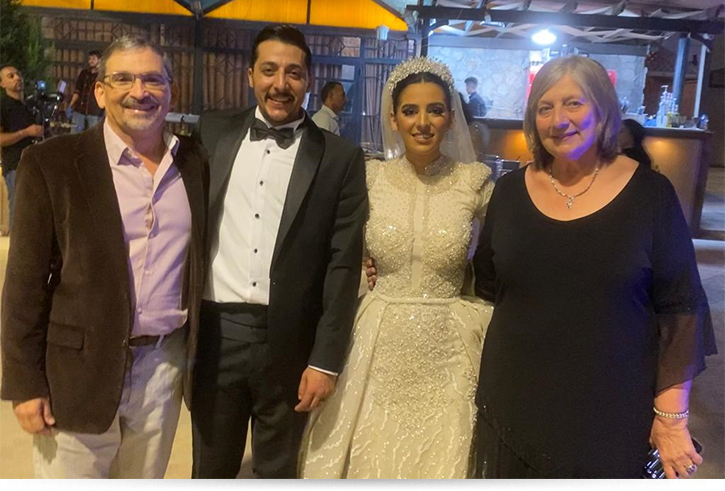 Prof. Dario Prais, Director of the Institute of Pulmonology at Schneider Children's, and Prof. Hannah Blau, founder and former director of the Institute, were guests of honor at the wedding of 23-year-old Faraz from Jordan who suffered from Cystic Fibrosis (CF).
Faraz has been under the care of Schneider Children's since he was 3 years old. His parents arrived with him for the first time through the assistance of Queen Nur, after the couple had already lost two children during their first year of life due to CF. However, his visits to Schneider ceased several years ago when support was withdrawn, resulting in the deterioration in Faraz's clinical condition as there was no treatment available in Jordan.
A year ago, Faraz's mother, who was despairing of hope, reached out to Prof. Blau, who responded immediately to see how she could assist. She contacted the representative of a public company in Israel, and following extensive efforts, succeeded in obtaining approval for Faraz to return to Schneider for treatment, and arranged the documentation for his entry into Israel – all while in the midst of the corona pandemic.
Following the treatment he received at Schneider Children's, Faraz's condition improved tremendously, allowing his transformation from a bedridden person and oxygen dependent, to dancing at his wedding. Faraz and his family were so deeply grateful to his doctors at Schneider, they invited them as guests of honor to his wedding in the city of Irbid in Jordan.
Prof. Prais said that "this was one of those moments that underscore the essence of my profession: to be a part of someone's happiness where marriage was not at all a sure thing. The journey was an unforgettable and exciting experience. After crossing the border, the family was waiting for us on the Jordanian side of the checkpoint, and from that moment on, hosted, transported and cared for us literally without bounds. The family wanted to and succeeded in thanking us for the care we had given Faraz over the years. I thank them from the bottom of my heart and for giving me the real opportunity to sense and fulfill the spirit of the medical profession and the Oath of the Hebrew Physician: "And you helped the sick wherever he is, whether he be a foreigner or a citizen, whether contemptible or honorable, where infection crosses borders, medicine cannot stop there."