Skip page content
Ukrainian Liver Recipient Returns Home
In a moving ceremony which did not leave a dry eye, the organ transplant team said farewell to 13-year-old Ilona who arrived at the hospital several months ago from Ukraine to undergo an urgent liver transplant
Date: 28.09.22 | Update: 05.12.22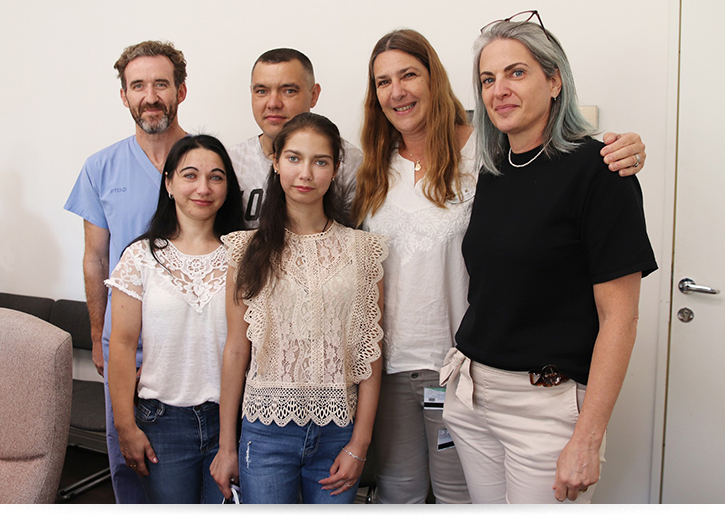 L-R: Dr. Michael Gurevich, Director of the Liver Transplant Unit, Ilona and her parents, Dr. Efrat Bron-Harlev, CEO, Dr. Yael Mozer-Glassberg, Director of the Liver Recipients Service

In a moving ceremony which did not leave a dry eye, the organ transplant team said farewell to 13-year-old Ilona who arrived at the hospital several months ago from Ukraine to undergo an urgent liver transplant.
Following the outbreak of war in Ukraine, Ilona was brought to Israel together with her parents on a special flight arranged by the Polish government. Schneider's hospital management received the appeal of the family and immediately responded with preparing all the requirements needed to conduct the operation. Schneider Children's is the sole medical center in Israel that conducts liver transplants in children. Ilona received a liver lobe from her father who was found to be a suitable match.
During her long hospitalization in the various departments, Ilona received multidisciplinary care from doctors, transplant surgeons, anesthetists, operating teams, intensivists, nurses, social workers, volunteers and teams from the Institute of Gastroenterology, Nutrition and Liver Diseases, who treated her both before and after her surgery.
Ilona's parents said that "the news that our daughter's condition was complex and grave caught us in a difficult situation during the war in our homeland and helpless about tomorrow. Thanks to the government of Poland which offered to help, and to other good people, we were granted permission to arrive in Israel and undergo care at Schneider Children's, which conducted the complex operation and accompanied us all the way throughout the long process of recovery. There are not enough words to express our appreciation to the wonderful staff for the dedicated care they gave us and for making us feel as close to home as possible."
Dr. Efrat Bron-Harlev, CEO of Schneider Children's, noted that "Schneider Children's fulfills the vision every day to be a bridge to peace, the one and only hospital entirely dedicated to going above and beyond for all the children around the world. Through the humanitarian rescue mission, Schneider received a very sick girl who needed an urgent liver transplant that was not possible because of the fighting in Ukraine. We feel privileged to be able to offer life-saving care to all children wherever they may be."


Members of the multidisciplinary team that treated Ilona, and her parents, moments before her discharge