Skip page content
New Appointment: Neurosurgeon Dr. Ido Ben Zvi
Dr. Ido Ben Zvi, a specialist in treating epilepsy, has joined the team of specialists in the Neurosurgery Unit at Schneider Children's
Date: 20.09.22 | Update: 02.10.22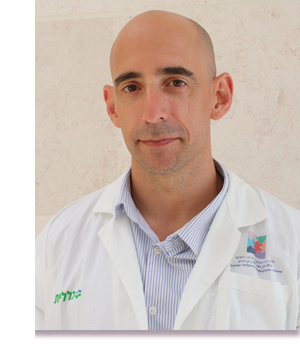 Dr. Ido Ben Zvi, a specialist in treating epilepsy, has joined the team of specialists in the Neurosurgery Unit at Schneider Children's and will oversee, among others, surgical procedures for epilepsy.
Dr. Ben Zvi, 43, is married with three children and lives in Kfar Saba. He completed his medical degree at the University of Bologna, after which he underwent specialization in Neurosurgery at Schneider Children's and the Rabin Medical Center. Thereafter, he continued his training for three years in Pediatric Neursurgery specializing in operations for epilepsy at the Great Ormond Street Hospital (GOSH) in London.
About two years ago, Dr. Ben Zvi participated in four rare neurosurgeries at GOSH, where each operation took 15 hours in order to separate a pair of Siamese twins. He was one of four specialists from all over the world who were mobilized for this complex surgery. In addition, he participated in a rare separation of Siamese twins that took place last year at the Soroka Medical Center in Beer Sheba.
Dr. Amir Kershenovich, Director of the Neurosurgery Unit at Schneider Children's, stated that "we are pleased to welcome Dr. Ben Zvi back to Schneider and the Neurosurgery Unit. We are certain that the experience he gained abroad will contribute greatly to the health of children, and the development of Schneider children's as a leader in the field of Epilepsy."