Skip page content
Liberian Infant with Rare Head Deformity
9-month-old Mirkel Titus from Liberia was born with a rare deformity in her head, and underwent successful repair at Schneider Children's
Date: 06.09.22 | Update: 07.09.22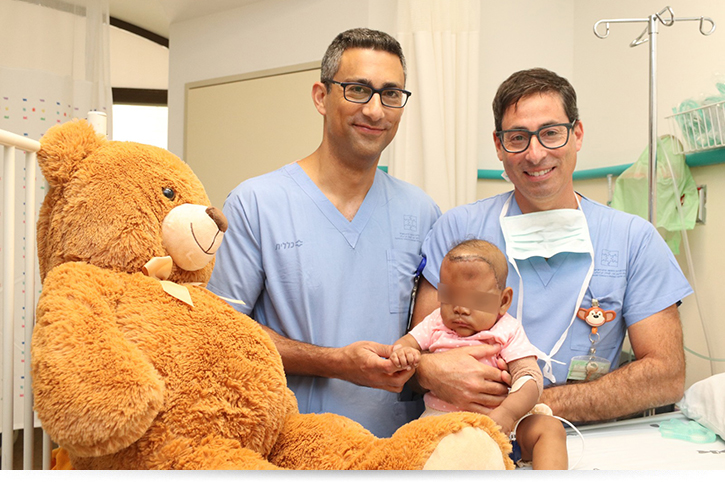 Mirkel Titus, a 9-month-old infant from Liberia who was born with a rare defect in her head, arrived recently in Israel to undergo a complex operation at Schneider Children's.
The rare deformity resulted from abnormal development of the brain, skull and facial bones which was expressed by missing bone in the forehead. This caused the brain to slip outside the skull into the facial bones and sinuses, forming a large horn-like protrusion. Aside from the significant aesthetics of her condition, there was also the risk that the protruding brain could easily be damaged which in turn could lead to life-threatening infection.
Emilia Titus, Mirkel's mother, who desperately sought medical assistance for her daughter, wrote a despairing post on social media. A journalist in Liberia read the post and approached Nir Gaz, Honorary Consul of Israel in Malawi, who immediately set about to help. Mr. Gaz wrote to Prof. Joseph Press, President of the Israeli LeMaanchem non-profit and former director of Schneider Children's Medical Center of Israel, who contacted KIBS - Kids International Brain and Spinal Cord Surgery charitable organization. KIBS is headed by Dr. Amir Kershenovich, Director of the Neurosurgery at Schneider Children's, and his wife, Hila, and aims to bring children to Schneider Children's from all around the world where neurosurgery is unavailable.
The undertaking – travel and treatment - was funded by Yosef Glickut and his granddaughter, Shelley, Jewish emigres from Mexico who live in San Diego, and Mr. Gaz. Coordination among all parties was provided by Israel's embassy in Ghana.
The complex surgery required a team of both neuro- and plastic surgeons and included Dr. Kershenovich, Dr. Ivan Novitzky, senior surgeon in the Neurosurgery Unit, and Dr. Asaf Ulshinka, senior plastic surgeon and head of the Craniofacial Surgery Service at Schneider Children's. They were assisted by the Head of Anesthesiology, Dr. Yelena Tzeitlin. Following the operation, Mirkel was transferred to the Pediatric Intensive Care Unit headed by Prof. Elhanan Nahum for continued care.
Dr. Kershenovich said that "I am pleased and proud that we succeeded in bringing Mirkel to Israel through the generosity of good people and to treat this complex deformity that will change her life from end to end. Treating children like Mirkel who do not have such help available precisely fits Schneider's mission to treat children wherever they are and to serve as a bridge between all peoples."
Sharon Bar-Li, Deputy Director of the African Division at the Foreign Ministry added that "the Foreign Ministry and Embassy in Ghana who are also responsible for Liberia are happy to have had the opportunity to assist in saving Mirkel's life. From the moment that we learnt about the case, we were in sync with Nir Gaz and his team and Schneider Children's. We are deeply grateful for the outstanding cooperation of all parties as well as the support received from the Israeli community in Ghana in transporting Mirkel and her mother to Israel. We send our best wishes for a complete recovery to Mirkel and will continue to be in contact with the family following their return to Liberia. This case underscores yet again the beautiful face of Israel and the immense wisdom of our providing humanitarian assistance around the world."