Skip page content
New Appointment: Dr. Eyal Yaacobi, Lung Transplant Specialist
Dr. Eyal Yaacobi has joined the team of specialists in the Institute of Pulmonology at Schneider Children's. He recently returned to Israel following a four-year period of study in Toronto, Canada
Date: 19.07.22 | Update: 28.07.22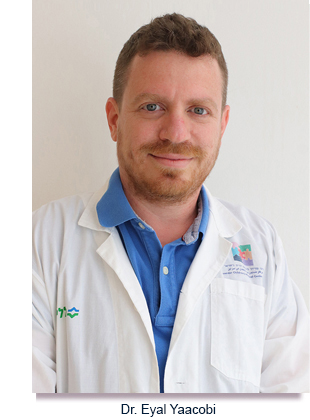 Dr. Eyal Yaacobi has joined the team of specialists in the Institute of Pulmonology at Schneider Children's. He recently returned to Israel following a four-year period of study in Toronto, Canada. During this time, he initially underwent specialization in neonatal intensive care at Mount Sinai, and thereafter, a second specialization in pediatric pulmonology at SickKids, sub-specializing in pediatric lung transplantation.
The program for pediatric lung transplantation at SickKids is among the largest in the world, and even during the corona pandemic, some 7 lung transplants were conducted in children with near-terminal chronic lung disease, with impressive results. Dr. Yaacobi is the only physician in Israel who has specialized in pediatric lung transplantation, and beyond his ongoing role in the Pulmonology Institute at Schneider, he has also joined the lung transplant team at Beilinson Hospital headed by Prof. Kramer, and will conduct follow-up care of lung recipients.
Dr. Dario Prais, Director of the Institute of Pulmonology at Schneider, said that "the field of lung transplantation in children is dynamic, and we are witnessing increased life survival in lung transplantation recipients than in the past. The indications for pediatric lung transplantation are very different compared with adults, and moreover, a child is not a small adult. This means that management of the basic disease and treatment throughout the long process of pre- and post-transplantation demands a ready and dedicated team of professionals to care for these patients. Hence the importance of a specialist in this field. We are thrilled to have Dr. Yaacobi join our team and are sure that the experience he gained will greatly impact upon the health of our patients and furthermore, advance Schneider Children's as the leader in this field in Israel."