Skip page content
Two Liver Transplants
The lives of two small children were saved following liver transplants that were conducted at Schneider Children's one after the other within the space of 24 hours
Date: 16.06.22 | Update: 27.06.22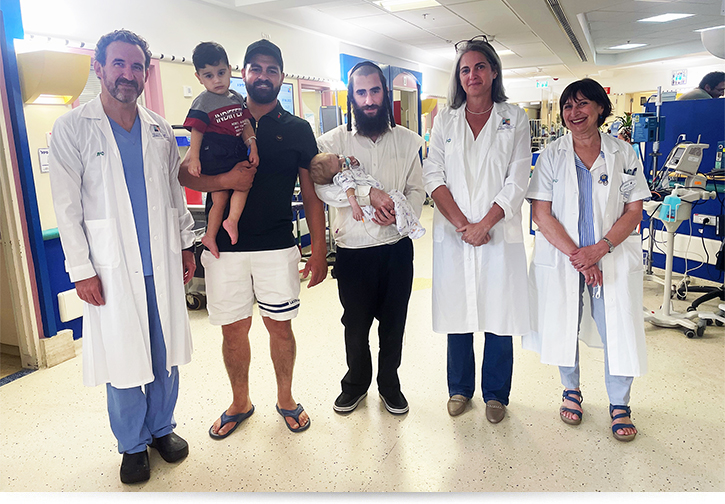 L-R: Dr. Gurevich, Mohammed and Shimshon with their fathers, Dr. Yael Mozer, Prof. Irit Krause


Seven-month-old Shimshon Eichler from Ashdod suffered from chronic liver disease that was diagnosed when he was a few weeks old. His condition deteriorated rapidly requiring an urgent liver transplant that was made possible by his father who was found suitable to donate a liver lobe. Mohammed Aeslah, aged 2, from Kfar Arabe in the north, was born with a metabolic disease that in later life could lead to mental retardation among other complications. The liver transplantation will allow him to have normal development. He was the recipient of an organ donation.
The transplants were led by Dr. Michael Gurevich, Director of the Liver Transplantation Unit, together with Dr. Sigal Eisner, Director of the Kidney Transplantation Service and the Anesthesia Department headed by Dr. Yelena Tzeitlin. Following the surgery, the children were initially transferred to the Pediatric Intensive Care Unit headed by Prof. Elhanan Nahum, and thereafter to the Department of Pediatrics C headed by Prof. Irit Krause. Follow-up of the liver recipients before and after the surgery is conducted by a team in the Liver Transplantation Unit within the Institute of Gastroenterology, Nutrition and Liver Diseases.
Dr. Gurevich said that "liver transplantation is one of the most complicated surgeries, and even more so in very small children. The operation demands special preparation by the hospital team including pediatric organ transplant surgeons, ultrasound technicians, gastroenterologists, anesthetists, surgical nurses, intensivists and more. This time, we performed two transplants in small children one after the other within a short period of 24 hours. In order for the complex procedures to succeed, unique multidisciplinary teamwork and collaboration are essential, which luckily exists in perfection at Schneider."
Schneider Children's conducts the majority of organ transplantations in children in Israel. Since its inception, more than 700 transplant surgeries of heart, lung, liver and kidneys have been performed in infants, children and adolescents at the hospital at a rate of success on a par with leading medical institutions in the world.