Skip page content
Organ Recipients Participate in Fashion 54 Campaign
For the first time in Israel, pediatric organ recipients participated in a fashion campaign to raise awareness about organ transplantation in children
Date: 28.04.22 | Update: 01.06.22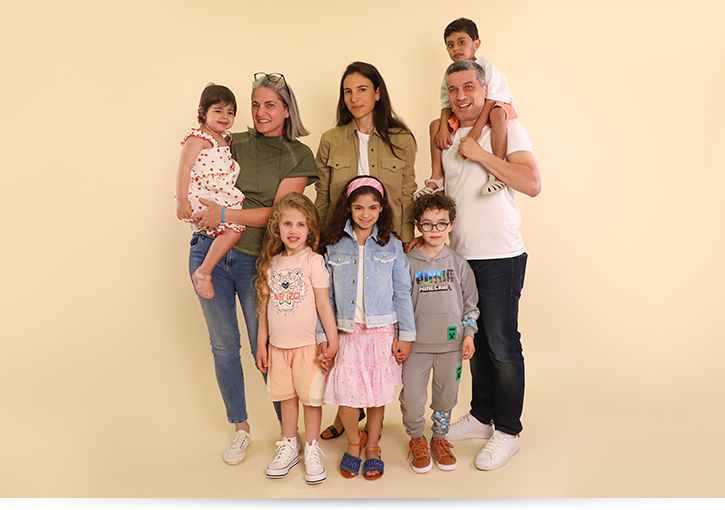 Adults from R: Prof. Efi Bilavsky, Yifat Irani CEO of Factory 54, and Dr. Yael Mozer, Head of the Liver Transplantation Service
Children from R: Mahmud aged 5, Alex aged 6, Mai aged 5, Ofri aged 8, and Maya aged 3
Credit: Idan Amit

For the first time in Israel, pediatric organ recipients participated in a fashion campaign to raise awareness about organ transplantation in children. All five children who participated in the campaign underwent organ transplantation at Schneider Children's - the Pediatric Organ Transplantation Center in Israel where infants, children and adolescents from all over the country cope with congenital defects or complex diseases and are candidates for life-saving organ transplantation.
The link between Schneider Children's and Factory 54 was made following an appeal by Prof. Efi Bilavsky, senior physician in the Department of Pediatrics C, which treats children before and after organ transplantation. Prof. Bilavsky suggested utilizing organ recipients as models in the children's collection – with the aim of raising awareness about the importance of organ donation.
Prof. Bilavsky's wonderful suggestion was accepted, and the children starred in fashion photographs for the new 2022 Spring Collection. The children were accompanied by their parents who were presented with professional photos of their small-large heroes. "We were able to cheer the children on the day of the photographs as well as give them a memento forever, and of course, contribute towards the important objective of raising awareness about life-saving organ transplantation in children," said Factory 54.
The children included 5-year-old Mai who underwent a liver transplant when she was 9 months old; 6-year-old Alex who received a kidney when he was 22 months old; 3-year-old Maya who underwent a liver transplant at age 2; 8-year-old Ofri who received a kidney when she was 5½; and 5-year-old Mahmud who had a liver transplant when he was just 6 weeks old.
The Organ Transplantation Division at Schneider Children's leads the field of pediatric organ transplants in Israel and conducts the majority of such operations in children. Since its inception, the department has accorded new lives to hundreds of children following successful transplantations, at a level of success on a par with leading medical centers in the world. Schneider Children's is among the few hospitals worldwide capable of performing several organ transplantations simultaneously. The hospital serves as a national referral center for kidney and liver transplants in infants, children and adolescents.
Organ transplantations are made possible through the courage of family members who, in their most difficult hour following the loss of a relative, give their consent to donate organs. Some transplantations take place following donation of a kidney or liver lobe from a family member, while others are conducted through altruistic donation.
Schneider Children's provides all-encompassing care to pediatric candidates for organ transplantation as well as recipients. Specialists in pediatric organ transplantation, anesthesia, gastroenterology, cardiology, nephrology, surgery, ultrasound, intensive care, nursing, technicians, psycho-social services, education and diet all work together to provide every child and his family with professional, humanitarian and compassionate care.