Skip page content
Cancer Patients Visit UAE
The tour, a gift from the UAE Ambassador to children at Schneider, was arranged at his initiative following his visit to the Oncology Department
Date: 13.04.22 | Update: 14.04.22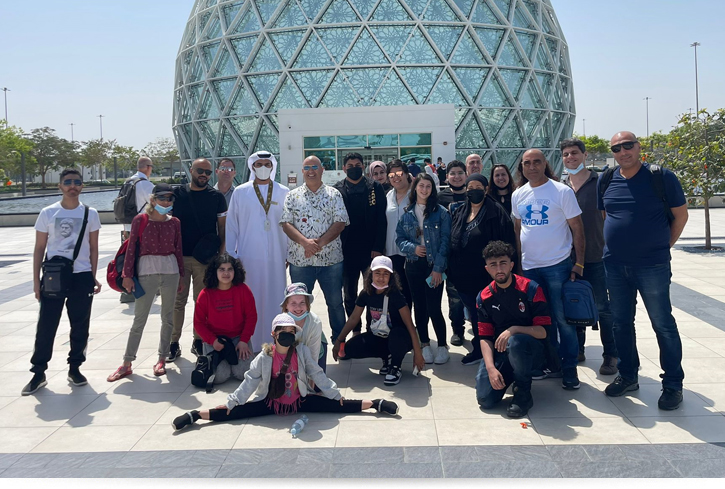 A group of 10 children being treated in the Hemato-Oncology Division at Schneider Children's enjoyed a 5-day tour in the UAE, a gift from the UAE Ambassador to Israel to the children at Schneider, in cooperation with the Minister for Regional Cooperation Isawi Freij. The gift was the initiative of the Ambassador following his visit to Schneider Children's where he toured the Oncology Department. Accompanying the group on their tour was an oncologist, a nurse and a hospital clown from the Hemato-Oncology Department, two of whom spoke Arabic.
A gift from Israel was presented recently as part of the historic visit of the President of the State of Israel, Yitzhak Herzog, to the UAE. President Herzog in his meeting with the Crown Prince of Abu Dhabi, Sheikh Mohammed Ben Zaid, presented him with a pediatric conference in cooperation with Schneider Children's named after the Abraham Accords. The First Abraham Children's Conference will feature multidisciplinary topics and cultures to advance the field of medicine and health for the future of children in the UAE.
According to Orit Sasson, the mother of Maayan Sasson, who accompanied her on the trip, "during our stay at Schneider, it was clear to all us parents and children that there is no discrimination according to nationality or religion. It made no difference to us whether the children in the room, doctors or nurses were Arab or Jewish. The trip also enabled us to experience these feelings outside the walls of the hospital. My daughter, Maayan, was privileged to experience true bonding with children in recovery like herself, and mainly to sense the faith and hope that peace is possible. The group tour enabled the expression of the most important values we can give our children: to respect every person, a feeling of belonging, collaboration and brotherhood, values that accord every human being a better and happier life."
Dr. Efrat Bron-Harlev, CEO of Schneider Children's, noted that "the group that travelled to the UAE, which included 5 Jewish children and 5 children from the Arab sector, symbolizes coexistence and a bridge to peace, representing the foundation stone of our activities at Schneider Children's. We at Schneider, the one and only unique hospital of its kind in the Middle East for the comprehensive care of children, are pleased with the opportunity to fulfil the vision to provide every child with the best treatment and health. The Abraham Accords and the string of collaborative agreements that followed, among them in the realm of health, will assist children from the entire region to mature within the reality of peace and growth and to enjoy the most advanced medical care available today."