Skip page content
Our Hospital Knows No Borders
A medical team from Schneider Children's flew to Ukraine as part of the "Shining Star" Mission under the aegis of the Ministries of Foreign Affairs and Health
Date: 21.03.22 | Update: 22.03.22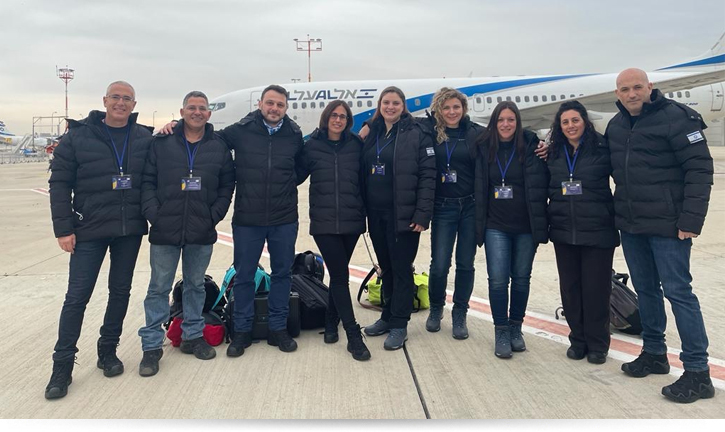 The medical team from Schneider Children's Medical Center comprised 9 members of 4 pediatricians and 5 nurses, accompanied by another doctor from Soroka Hospital. The group joined the delegation from the Ministries of Health and Foreign Affairs which will set up a field hospital in Ukraine as part of the "Shining Star" Mission.
Heading the team is Dr. Omer Niv, Deputy Director of Schneider Children's, who is accompanied by Dr. Eran Mashiah and Dr. Keren Shahar-Nissan, senior pediatricians in the Emergency Medicine Department (ER), Dr. Michael Segal from the Surgery Department, and ER nurses Yaron Fuchs, Noa Razmet and Miri (Marina) Hillel, and intensive care nurses Ina Brium and Yosefit Moshe. The team will treat children arriving at the field hospital which will be capable of treating different conditions, from the most simple to the most complex.
Since Schneider Children's is a member of the European Children's Hospitals Organization (ECHO), the team will be able to directly contact leading pediatric centers in Europe and refer children to them where necessary. This was previously agreed upon between Dr. Efrat Bron-Harlev, CEO of Schneider Children's, and the heads of European hospitals during a special meeting of ECHO called for this purpose.
Scores of private citizens, charities and companies have gathered to assist the mission through the donation of clothes, toys and games, hygiene items and more. They include Papayaglobal, Clalit Health Services supply authority, Citizens Assistance Service, Friends of Schneider Children's and the Our Children Foundation. Microsoft Israel donated sets of reality viewers with hololenses. The HoloLens allows doctors to see patients from a distance through the Teams app, which is used in clinical arenas. Through the holographic lens, Schneider specialists can consult from afar with their colleagues in Israel regarding children being treated at the field hospital.
Recently, a 4-member team from Schneider Children's left on a special rescue mission for the border between Romania and Ukraine to accompany on a flight to Israel 11 severely ill children who needed life-saving treatment. At the border, the team met with the children and their relatives who had undertaken the long journey from war-torn areas. After an initial examination, the youngsters boarded the plane with their medical devices for the flight to Israel. Among the children who arrived at Schneider Children's were those who needed dialysis and others with cancer. After another examination in the Emergency Medicine Department (ER), they were then admitted to the various departments.
In addition, against the background of the severe ongoing shortage of medications in Ukraine, Schneider Children's began to collect overstock of life-saving drugs for children with Cystic Fibrosis (CF), which was flown en masse to Ukraine.
According to Dr. Harlev, "at this time of war and violence which is claiming the lives of many including children and infants, we thought and felt that we could not stand on the sidelines. The one and only Schneider Children's fulfills its vision to be a bridge to peace every day, and today even more so as we embody the spirit of above and beyond for every child in the world. We are excited and proud to be part of this historic endeavor by performing this good deed. I am pleased and appreciate the mobilization of all our teams in the hospital who understood that this effort is something greater and that is - that we are here for children, wherever they are."