Skip page content
Schneider Teams To Leave for Ukraine
A delegation from Schneider Children's will leave shortly for Ukraine together with medical teams from other Clalit hospitals
Date: 06.03.22 | Update: 14.03.22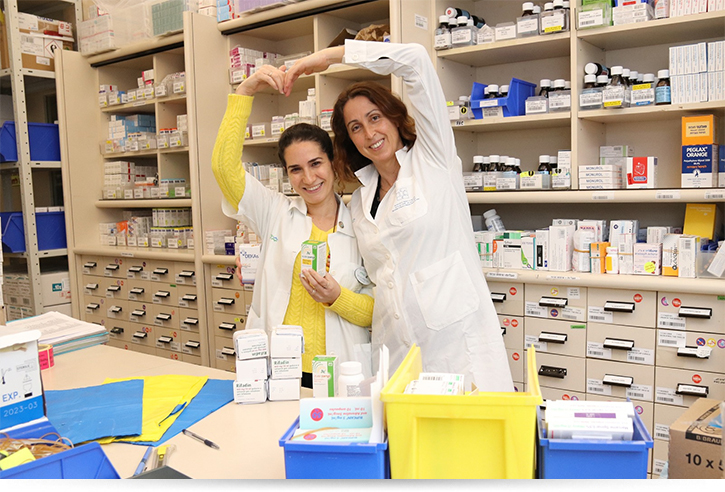 A delegation of 10 pediatric professionals from Schneider will join the delegation being sent in the next few days by the Ministries of Health and Foreign Affairs to Ukraine with the objective of setting up a field hospital. The team from Schneider will have sole responsibility for the children's section. The hospital is also preparing to receive sick children from hospitals in Kyiv. Towards this end, a special flight is in planning so that medical teams can accompany sick children on the journey to Israel.
In addition, due to the serious shortage of ongoing supplies of medications to Ukraine, Schneider Children's will serve as the collection point for life-saving drugs for children with Cystic Fibrosis (CF). As part of the joint operation with the CF Society, excess medicines will be collected from patients and sent to the pharmacy at Schneider, where they will undergo clinical review and approval, after which they will be flown en masse to Ukraine.
Dr. Efrat Bron-Harlev, CEO of Schneider Children's, noted that "we have been making preparations over the past few days with many volunteer teams to join the delegation to Ukraine. The group will leave with suitable equipment for children of all ages and suffering from all conditions. We feel a moral obligation to help children wherever they are in the world in our capacity as the one and only children's hospital of its kind in the Middle East. Schneider's teams are ready to respond with whatever it takes to help Ukrainian children and meet their physical and emotional needs. We are proud to be part of this delegation and pray for better days."