Skip page content
Breaking Borders Rescue Mission
A team from Schneider Children's was dispatched on a special rescue mission: to accompany to Israel 10 sick Ukrainian children with complex diseases who needed urgent treatment
Date: 08.03.22 | Update: 14.03.22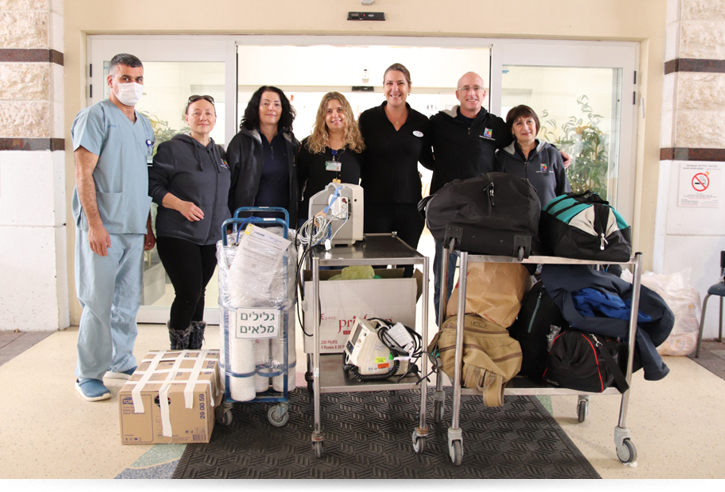 A team from Schneider Children's was dispatched on a special rescue mission to the border between Ukraine and Romania. Their mission: to accompany 10 sick children with complex diseases, who arrived with their parents from a hospital in Kyiv, on a flight to Israel to obtain urgent life-saving treatment.
The medical team comprised two doctors and two nurses who spoke the language: Prof. Irit Krause, Director of the Internal Medicine Department C, Dr. Avichai Weisbach, senior
physician in the Emergency Medicine Department, Nurse Yulia Nikitin from Internal Medicine Department C and Nurse Natalia Sirota from the Pediatric Intensive Care Unit. Upon arrival, they met the children and their families who had travelled 40 hours on battle-ridden roads. After initially assessing their needs, the team boarded the plane with the children and their needed medical equipment for the flight to Israel.
Among those who were flown to Schneider Children's were children who required dialysis and who suffered from cancer. The children were initially examined in the Emergency Medicine Department and then transferred to other departments according to their medical condition.
The mission, in cooperation with government ministries including Foreign Affairs and Transportation, was made possible due to the scores of private citizens and companies who were moved to act. The complex logistics to put the plan into action was overseen by Ofer Krasner, Honorary Consul of Ukraine in Jerusalem, and owner of City Capital Group, together with Rafael Yucha, CEO of City Capital Group in Kyiv. The special flight to bring the children and their parents to Schneider Children's was organized and funded by businessmen Ami Lustig and Roi Ben Yemi from LR Group.
Dr. Efrat Bron-Harlev, CEO of Schneider Children's, said that "we are excited and proud to receive children from Ukraine at Schneider Children's for needed medical care, and we would like to thank all those wonderful people who made this possible and whose outstanding humanity reflects the grandeur of the State of Israel in difficult times like these. The hospital's team feels a moral responsibility to help all children wherever they are, and we will make every effort to care for their physical and emotional needs alike. In the coming days, a delegation from the hospital will leave to supervise the pediatric section of the field hospital to be set up by the Ministry of Health in Ukraine."