Skip page content
Mother of 7 Altruistically Donates Kidney
Hadas Shimmel, 44, a mother of 7 children from Ariel, altruistically donated a kidney to save a child's life
Date: 28.02.22 | Update: 03.03.22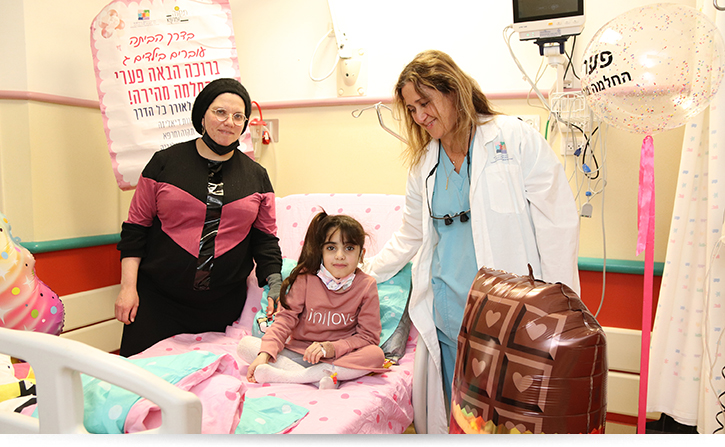 Hadas Shimmel, 44, a mother of 7 children from Ariel, decided upon an extraordinary step – to donate her kidney and save the life of a child. So she began the process of kidney donation through the non-profit Matanat Chaim
The recipient, 8-year-old Chaya-Parel (Pari) Sarota, from Betar Illit, suffered from terminal kidney failure, which was only discovered after she had a mild illness about a year ago. Following tests, Hadas was found to be a suitable donor.
Pari looked like a normal healthy child to her parents during the first years of her life, but after falling ill about a year ago, she was discovered to be in terminal renal failure, and required dialysis. After undergoing tests, the findings revealed that the cause of her kidney impairment stemmed from abnormal development of her kidneys while she was still in the womb, which no-one knew about.
Pari urgently needed a life-saving kidney transplantation. Then the family received the exciting news that a suitable donor had been found. Last week, Pari underwent kidney transplantation at Schneider Children's.
Hadas asked to convey that "three years ago, my husband, Yair, donated his kidney to a young man and saved his life. This was an affirming experience for him. Every life saved is thrilling, but there is something about saving a child's life whose entire future is ahead. It is a powerful experience in giving."
Rachel, Pari's mother, said that "Pari's illness fell on us like thunder on a clear day. From a totally normal child, I saw her become a very sick girl. As the parents of 11 children, it is difficult to function in a situation where one child needed dialysis treatments three times a week. So the courgeous donation we received does not only save the life of one person, but also that of an entire family caught in crisis. We have no words to thank our angel donor for her deed. We ask also to thank the entire medical team at Schneider who accompanied us hand-in-hand throughout the process, and displayed exceptional professionalism and humanitarianism."
The two procedures – removal of the kidney and the transplantation – were conducted in adjoining operating rooms at Schneider by the transplantation team headed by Dr. Sigal Eisner, Director of the Kidney Transplantation Service at Schneider Children's. Following the surgery, Hadas was transferred to Beilinson Hospital for recovery, and Pari was transferred to the Pediatric Intensive Care Unit at Schneider headed by Prof. Elhanan Nahum, and thereafter to Pediatrics C, headed by Prof. Irit Krause.
Schneider Children's is among the few pediatric centers in the world capable of conducting a large number of organ transplants. Transplantation of a living-donor kidney is a complex procedure requiring special preparation by the medical teams which comprise pediatric organ transplant surgeons, nephrologists, anesthetists, ultrasound technicians, operating nurses, intensivists and more. As part of the surgery, both donor and recipient are wheeled into their respective operating rooms simulaneously. Initially, the kidney is removed from the adult donor, and transferred to the adjoining room for transplantation into the child.
Schneider Children's performs the majority of organ transplantations in children in Israel. Since its establishment, over 700 heart, lung, liver and kidney transplants have been conducted in infants, children and adolescents with a success rate on a par with leading institutions in the world.