Skip page content
First Abraham's Children Conference
An invitation to the First Abraham's Children Conference was presented to the Crown Prince of Abu Dhabi as a gift from the President of the State of Israel, Yitzhak Herzog, during his recent presidential visit to the UAE
Date: 01.02.22 | Update: 13.02.22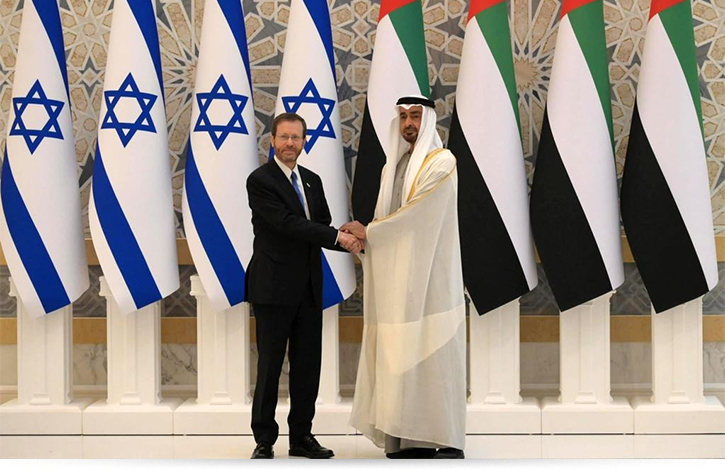 Photo: Courtesy Spokesperson's Office

An unusual gift was presented to the Crown Prince of Abu Dhabi, Sheikh Mohamed ben Zayed, by State President Yitzhak Herzog during his historic visit to the United Arab Emirates – an invitation to a pediatric conference together with Schneider Children's, named after the Abraham Accords. President Herzog presented the framed invitation to the Crown Prince at the end of their warm and extended meeting at the Sheikh's official palace.
The First Abraham's Children Conference will constitute a multidisciplinary and multicultural gathering to advance the field of medicine and health for the future of children in the UAE. The aim is to share the knowledge and experience of Schneider Children's teams while underscoring the worlds of children's health, culture and abilities to help them cope with their disease through optimism, art and humor.
The conference will comprise lectures and workshops given by Schneider specialists from a multicultural perspective, aimed to emphasize the sick and hospitalized child's healthy world. Professionals will derive from the full range of pediatric specialties in order to promote creative dialogues with "out-of-the-box" thinking. These discussions will enable preparation of the basis for future collaboration.
According to Dr. Efrat Bron-Harlev, CEO of Schneider Children's, "We at Schneider Children's, the one and only center of its kind for the comprehensive treatment of children in the Middle East, are pleased about the opportunity offered us at the initiative of the President's Residence, to exercise in practice the vision to provide each and every child with the finest and best health and care. The Abraham Accords and the many collaborations that resulted, among which in the field of health, will benefit children all over the Middle East and enable them to grow within the reality of peace and progress, while enjoying the most advanced medical care available."
The historic medical agreement signed last year in Abu Dhabi between Clalit Health Services, the UAE's Ministry of Health and Daman, a national health insurance firm in Abu Dhabi and the largest medical insurer in the UAE, stipulates cooperation in the areas of medicine and health. This includes the development of joint initiatives to advance distance medicine, meetings to exchange knowledge, medical consultations and various treatments at Clalit's centers of excellence, among which is Schneider Children's.
The invitation that was presented to the Crown Prince (courtesy Spokesperson's Office)