Skip page content
Lowest Weight Liver Recipient in Israel
Shai Hillel Peretz weighed just 4kg before undergoing a life-saving liver transplantation
Date: 11.01.22 | Update: 13.01.22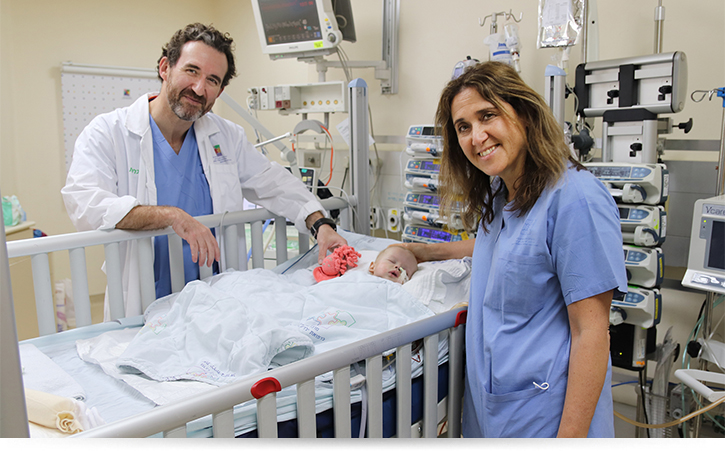 A world record was broken in liver transplantation at Schneider Children's when Shai Hillel Peretz, aged 5 months and weighing only 4 kg, underwent life-saving liver transplantation, making her the lowest weight recipient in Israel.
Little Shai was born at Rambam Hospital via Caesarian section during the 37th week of pregnancy. After her birth, she was diagnosed with jaundice, indicating a problem with her liver. She remained in hospital to undergo a liver biopsy which showed that she suffered from biliary atresia, which affects 1 in 15,000 infants and is expressed by blocked bile ducts. This places relentless pressure on the liver, which eventually leads to cirrhosis and liver failure. As a result, Shai underwent a Kasai procedure where ducts are surgically bypassed and joined directly to the colon allowing proper drainage of the bile into the digestive system.
Following the operation, she was discharged, but a few days later, she began to hemorrhage and returned to the hospital. Doctors found that Shai's liver was dysfunctioning and near to collapse and only a liver transplantation could save her life. She was transferred to Schneider Children's where she underwent a liver lobe transplant. The organ was donated by her paternal aunt who was found to be a match. The operation ensued 8 hours and was conducted by a team headed by Dr. Michael Gurevitz, head of the Liver Transplantation Unit, with Dr. Sigal Eisner, head of the Kidney Transplantation Unit and assisted by a team of anesthetists, headed by Dr. Yelena Tzeitlin.
Shai's mother, Moran Peretz, said that "the news of our daughter's complex condition caught us completely unprepared. We still had not gotten used to our new baby who joined the family, and already she was in a critical condition. Luckily, we were transferred to Schneider Children's which conducted the transplant and accompanied us through the entire process of recovery and acclimation of the new liver. Now our daughter is on her way to a full and healthy life. There are not enough words to thank the generous teams for their dedicated treatment they give to children and their support they provide to parents during difficult times. They should only continue to have the strength to save more lives of other children."
Dr. Gurevitz noted that "after the infant's arrival at Schneider, our main objective was to increase her body weight, a critical factor in the success of liver transplantation. Unfortunately, she deteriorated from day to day so that her critical condition dictated her undergoing immediate transplantation. Due to her size, this was a challenging and practically impossible procedure, because of the discrepancy between the size of the liver lobe and the small abdominal cavity. In light of the situation, after the surgery, she was transferred to the Pediatric Intensive Care Unit with an open abdomen covered with a vacuum dressing to prevent infection. Only after a number of days did we close her abdomen and wean her off the ventilator. Shai recovered well and we wish her and her family good health in the future."
A liver lobe transplantation from a living donor is a particularly difficult procedure, which demands special preparation by the hospital teams, including pediatric organ transplant surgeons, ultrasound technicians, gastroenterologists, anesthetists and surgical staff. As part of the surgery, both donor and recipient are wheeled into two adjoining operating rooms at the same time. First, the liver lobe is extracted from the donor in the one theater, and then transferred for implantation into the child in the adjoining room.
Schneider Chidlren's conducts the majority of organ transplantations in children in Israel. Since its establishment, more than 700 transplants of heart, lungs, liver and kidneys have been performed in infants, children and adolescents with success on a par with leading medical centers in the world.