Skip page content
Bridge to Peace
Faraz, 22, from Jordan, who suffered from Cystic Fibrosis (CF), received medication that saved his life
Date: 19.12.21 | Update: 06.01.22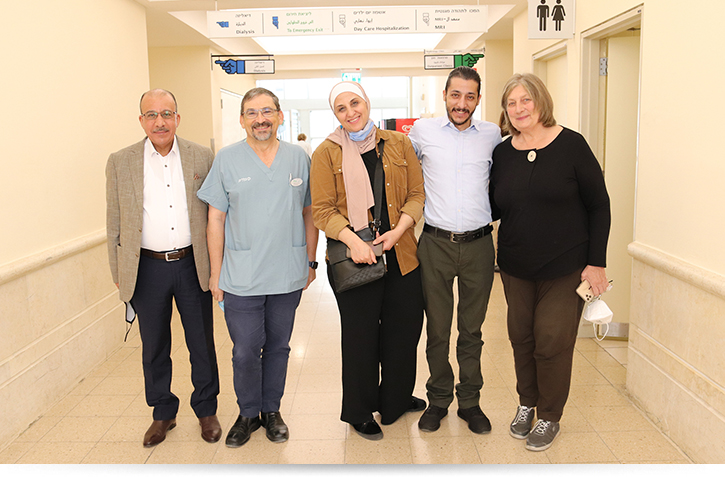 Cystic Fibrosis (CF) is a life-threatening inherited disease that affects many body systems and severely damages lung and pancreatic function. Major harm is caused mainly to the respiratory and digestive tracts. CF is understood to be incurable, and it appears only when both parents carry the gene mutation causing the diseases.
Faraz, 22, from Jordan, has been in prolonged follow-up care at Schneider Children's since he was 3 years-old. His parents initially arrived in Israel for the first visit with Faraz through the assistance of Queen Noor of Jordan, following the death of two of their older children who had previously died of the disease. Subsequent visits to Schneider were halted a few years ago due to withdrawal of financial support. Faraz's clinical condition deteriorated since there is no existing CF treatment center in his town in Jordan. In light of research being conducted on a novel drug for CF, in which Schneider was participating, Faraz returned to Israel for treatment. However, once the the research study ended, treatment also ended for Faraz.
Faraz's mother was helpless because of her son's worsening condition which kept him bedridden and on a respirator. In her despair. she contacted Prof. Hannah Blau, founder and former director of the Institute of Pulmonology at Schneider Children's, who took immediate action and checked how to help. Prof. Blau contacted a representative of the Israeli pharmaceutical company and following extensive efforts, succeeded in obtaining authorization for Faraz's treatment for one year.
But then a new problem arose – how to transfer the drug when the company had no representation in Jordan, while simultaneously Faraz's critical condition required supportive medical care which was unavailable in Jordan. Prof. Blau then approached the Jordanian embassy in Israel for assistance in transferring Faraz to Israel, and finally received the green light for the long-awaited entry.
Prof. Blau noted that "I have known Faraz since he was a small boy after his two older brothers succumbed to the disease. Due to his critical condition, his chances of survival without the drug were minimal. Thanks to good people including the drug company which contributed the medication, the Ambassador of Jordan to Israel, Ghassan El-Majali and his deputy, Mohammed Hamid, and Israel's Consul in Jordan, Etti Binyamin, we succeeded in bringing Faraz to Israel after months of waiting following approval because of corona."
Dr. Dario Prais, Director of the Pulmonology Institute at Schneider Children's said that "CF is a very difficult disease with many clinical manifestations, the most dangerous of which is respiratory distress which leads to rapid advancement of the disease. Luckily, there are 'life-changing' drugs that improve damaged protein function in the airways and body cells, thus contributing towards a better quality of life for patients, and even extending their life-expectancy, which today reaches an average of 45 years. Due to the authorization for compassionate care, the drug that arrived at Schneider and the excellent multidisciplinary cooperation that characterizes the hospital, we succeeded in granting Faraz life-saving care. There is no doubt that this was an exceptionally moving story that will remain with us for many years to come."