Skip page content
Ben Gurion Award Presented to Dr. Efrat Bron-Harlev
Date: 05.12.21 | Update: 06.12.21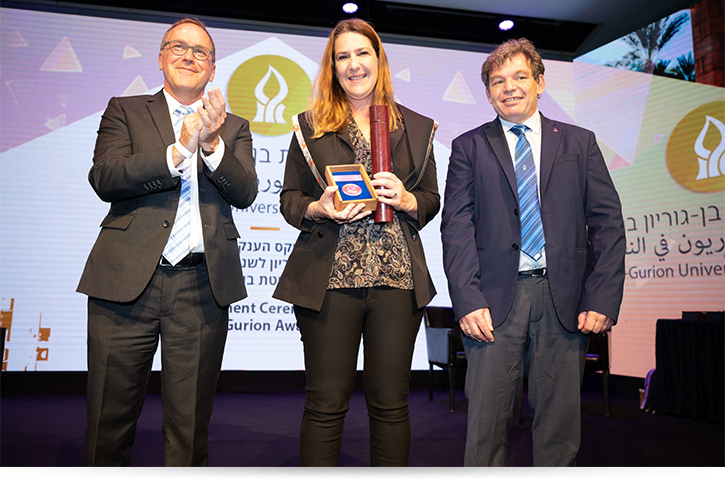 The award was presented as part of Israel's national commemoration day for David Ben Gurion, when Ben Gurion University of the Negev has traditionally paid tribute to noteworthy individuals who fulfil the legacy of the first prime minister by pushing frontiers, and contributing knowledge. This year, the prize was awarded in the presence of the President of the State of Israel, Yitzhak Herzog and Mrs. Michal Herzog.
Ben Gurion University decided to award the distinguished prize Dr. Bron-Harlev who has dedicated most of her career to advancing health services in Israel, for her persistent commitment and diligence to improving the quality of life for all its citizens. Dr. Bron-Harlev introduced far-reaching changes in the provision of advanced medical services in the periphery and within the Palestinian Authority. In recognition of her deep involvement to provide equal care to every child, she received Rotary's Shield of Tolerance in 2017.
Dr. Efrat Bron-Harlev, mother of four sons, pediatrician, pediatric intensive care physician, medical manager, graduate of Ben Gurion University's School of Medicine, and holder of an MA in Public Health from Harvard University in the United States, has been the CEO of Schneider Children's Medical Center since 2020. She previously served in a number of positions within Clalit Health Services, among them: Director of the Beilinson campus, Medical Director of the Northern District, and Deputy Director of Schneider Children's.
After receiving the Award, Dr. Bron-Harlev said that "I am very excited to receive this award at the place where I began my path to medicine, and feel as if this closes the circle. I am full of admiration to Ben Gurion University which nurtured and allowed me to begin on a significant direction in my life, that led me to to the post of CEO of the one and only children's hospital in Israel".
Dr. Bron-Harlev added that "receiving this award in the name of the first prime minister of the State of Israel, David Ben Gurion, is particularly exciting because he was a man of such vision for me, who saw with his own eyes the establishment of the State and the creation of a melting pot which eventually transformed into the unique mosaic that is Israeli society. This vision coincides with the mission of Schneider Children's to be a bridge to peace providing every child in Israel, whereever he or she may be, with advanced, professional, innovative and creative care through values of love of mankind, compassion and helping others - a hospital dedicated to the fundamental right of every child to live a healthy life".