Skip page content
Back to School
Dr. Michal Gilaon Keren, Dietician in the Nutrition and Dietary Unit and in the Institute of Endocrinology and Diabetes, Schneider Children's Medical Center offers parents the following nutritional tips
Date: 30.08.21 | Update: 01.09.21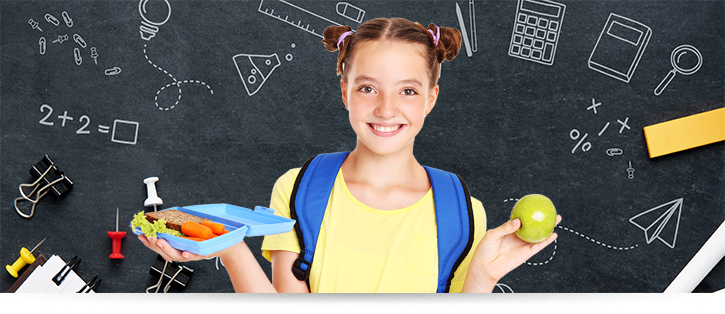 The corona pandemic complicated all our life routines: children are home more, spend more time in front of screens and perform less physical exercise. The anticipated return to school is an excellent opportunity to organize the lunch box for children and prepare a selection of more nutritional foods for them. Maintenance of healthy life habits, balanced meals and physical exercise all contribute towards strengthening the immune system in children and assist them to maintain a healthy body weight.
Parents should take advantage of the days before the start of the school year to jointly prepare meal choices in advance, thus encouraging children to taste new foods. Together, cut fruit and vegetables children don't usually eat and try out new spreads or different combinations on sandwiches. Parents might also try looking for recipes that children will prepare themselves, or obtain ideas for fillings that are served in coffee shops, such as a sandwich with mozzarella cheese and pesto, tuna and hard-boiled egg, etc.
Breakfast
Breakfast is very important for children while at school. Eating breakfast improves their concentration and raises their ability to solve problems. Children who eat breakfast regularly attain higher grades in their studies, especially mathematics, have fewer late arrivals and behavioral difficulties. Towards the end of the summer vacation, it is worthwhile returning to the routine of breakfast, even if children wake up late. Try a range of simple meals that children can eat easily during school if time is pressing in the morning.
Mid-Morning Snack
The mid-morning snack from home is preferable to buying ready-made foods in school. Prepare a table in advance or a detailed list of sandwich fillings for each day of the week in order to avoid indecision in the mornings. It is better to eat rolls, pitas or whole-wheat breads (100% whole-wheat flour), that contain nutritional fiber and contribute to health and a satisfying feeling, with a range of fillings such as cheese, avocado, techina, and humus. Add vegetables such as cucumber, peppers, cherry tomatoes and/or fruit such as an apple, banana, peach and nectarine. Cut and place in the plastic lunch box which reduces the risk of the food getting squashed and being thrown out. A bottle of water of at least half a liter should be given to ensure sufficient hydration throughout the school day.
The Perfect Plate
A simple way to demonstrate to children what is worthwhile eating is the perfect plate, where half the plate is filled with fruits and vegetables, and the other half is divided into protein (legumes, dairy, egg, fish, chicken) and carbohydrates (whole-wheat bread, rice, quinoa, buckwheat, oats). In addition, vegetable fats should be included such as olive oil, techina, avocado, walnuts and almonds. The perfect plate should be eaten at all 3 main meals during the day, breakfast or mid-morning, lunch and dinner.
Sample meals include:
Oatmeal or fruit and walnut yoghurt

Whole-wheat sandwich with cheese or egg and vegetables

Humus with hard-boiled egg, whole-wheat pita, cut-up vegetables

Rice and lentils with techina and cooked vegetables

Chicken patties in tomato sauce with rice and green beans

Chicken breast or fish with bourghul and vegetable soup

To summarize, proper nutrition contributes to children's learning ability and is also vital for their social, emotional and psychological development. It is important to adopt healthy eating habits from a young age to cement a healthy life and life span. It is especially important for children and youth to eat balanced meals with all the needed nutritional components for normal growth and development, as well as doing regular physical exercise. Whenever professional intervention is needed, a pediatric dietician should be consulted.