Skip page content
Donated Blood from Japan
7-year-old Manelle has a very rare blood type and had to undergo life-saving heart surgery at Schneider Children's. Blood was especially flown to Israel after a suitable donor was found in Japan
Date: 15.06.21 | Update: 29.06.21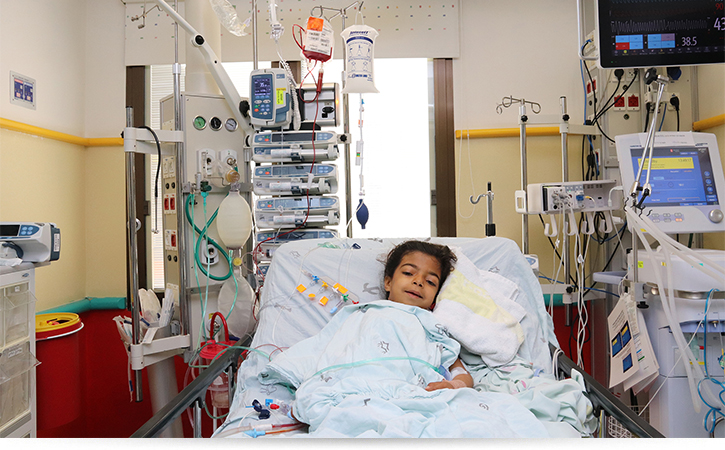 Manelle, 7, a Bedouin child born with a complex heart disorder as well as congenital anemia, was being treated at Soroka Hospital in Beer Sheba and Schneider Children's in Petach Tikva. A year ago, it was clear to doctors that Manelle needed open-heart surgery – piercing a cardiac homograph – to save her life. However, the medical team struck a wall when it was found that her blood type B, RhD negative, had an extremely rare sub-type. Since she would need additional blood transfusions during surgery and afterwards, a donor was needed. However, no match was found in Israel.
Dr. Joanne Yaakobovitz, Director of the Hemotology Unit at Schneider Children's, together with Dr. Vered Yahalom, head of Blood and Apheresis Services at Beilinson Hospital, initiated a search for donors with a similar blood type B, RhD negative and sub-type Jr(a-). Through the Blood Service at Magen David Adom (MDA), headed by Dr. Leora Muncher and Dr. Marina Izak, compatible blood donors were sought from the international registry of donors. A match was found in Japan.
MDA approached the Japanese Red Cross, which sent the matching units of blood by air to Israel. The units were stored in a special freezer until the operation, at which point the units were defrosted and transferred to Schneider Children's.
While preparing for the surgery, Manelle was given a weekly injection of interferon at Soroka Hospital for her anemia, so that her hemoglobin levels would be boosted at the time of the operation. This past March, Manelle underwent open-heart surgery conducted by Dr. Gabi Amir, Director of Newborn Cardiac Surgery at Schneider Children's, during which she received one unit of donated blood. A special technique was used to preserve her blood such as connecting her via her femoral artery to the heart-lung machine prior to to the chest incision, and recycling her blood during the operation.
Manelle's surgery was a success and she was transferred to the Cardiac Intensive Care Unit for follow-up care. She received the second unit of blood the day after, and was discharged in good health a few days later.
Dr. Yaacobovitz said that "we at Schneider believe that there are no limits in our efforts to save the life of every child. We knew that Manelle had to undergo the operation and we knew that she had to receive blood that was an exact match. The mission required multidisciplinary organization which also included Beilinson and Soroka Hospitals, MDA and the Japanese Red Cross, and international collaboration to save Manelle's life. These stories underscore the humanity and creativity of every medical professional who was involved in this case."
Dr. Yahalom added that "this case emphasizes the importance of blood donations in general and particularly when it involves the most rare blood types. In spite of technological advancements, the operation was only able to take place due to Japanese blood donors who chose to save the life of a foreign child that they did not even know."
According to Prof. Eilat Shneur, Deputy Director of MDA's Blood Service, "Manelle's case is a great example of the importance of professional collaboration between the laboratory for rare blood types at MDA and similar blood service labs around the world. This connection allows us to bring units of rare blood not found in Israel to treat patients here, while also providing rare blood units from Israel to patients overseas, all due to altruistic donors who wish to save lives."