Skip page content
Altruistic Kidney Donation
To mark her 40th birthday, Shoshana Cohen gave the gift of life to 2-year-old Roni by altruistically donating one of her kidneys to him
Date: 30.05.21 | Update: 01.06.21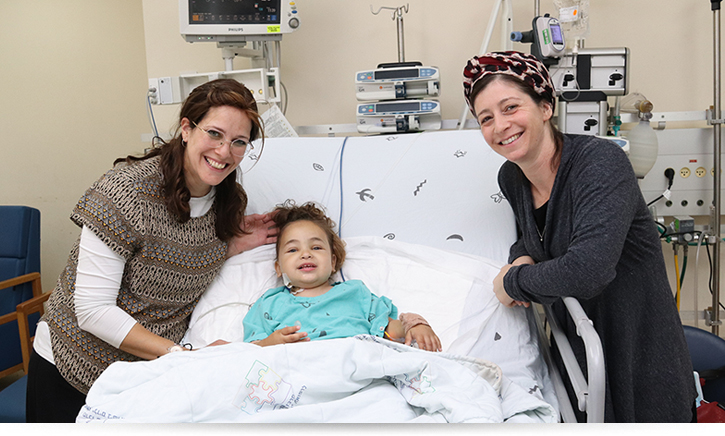 R-L: The donor, Shoshana Cohen, with Roni and his mother, Michal
Little Roni was born with chronic kidney dysfunction and needed a kidney transplant to save his life. He had been treated in the Institute of Nephrology at Schneider Children's since birth and was just one step away from having to start dialysis.All previous attempts to find a kidney donor failed due to incompatibility.
To mark her 40th birthday, Shoshana Cohen, a mother of 5, decided to take an extraordinary step by donating one of her kidneys to a child she did not know. Cohen serves as a midwife in the Maayanei Heyeshua Hospital and previously served as a nurse in the Dialysis Unit at Laniado Hospital. Said Shoshana, "my work as a nurse in dialysis exposed me to the difficult life and great suffering of patients, and already then, years ago, I knew that when the time was right, I would donate my kidney. My 40th birthday marked the moment."
The donation was made through the Matanat Chaim ("Gift of Life") Association which made the match between Shoshana and Roni. Rachel Haber, Chair of Matanat Chaim, noted that "from the moment that Roni was born, there was great fear for his life. My late husband z"l encouraged the family and promised to find Roni a kidney donor. My husband followed his growth so much so that some in the family called Roni the "son of Rabbi Haber". Happily, a few months ago, we found Shoshana to be a suitable donor from the medical standpoint. For me, the transplant is an emotional closing of the circle. I feel that we have fulfilled my husband's promise at last."
Two separate procedures are needed to remove the kidney from the donor and perform the transplant in the recipient. Two adjoining operating rooms at Schneider Children's worked simultaneously. The transplant team was headed by Dr. Sigal Eisner and Dr. Michael Gurevich.
An emotional meeting took place this week at Schneider between Shoshana and Roni and his family. Shoshana said, "I am so pleased to meet Roni and to see that my donation saved his life. I call upon everyone who is healthy and is able to undergo the procedure, to do so. My daughter has already decided that she will follow my example and also donate a kidney in the future."
Michal, Roni's mother, said that "when Roni was born and diagnosed with the disease, we already knew then that he would have to undergo a transplant. I cannot describe i how we felt when we were told that a suitable donor had been found. We would like to thank Shoshana whose courageous deed saved Roni's life. Thanks also to the team at Schneider who treated Roni since his birth and accompanied us every step of the way until the transplant and now afterwards. Also our gratitude to Mrs. Rachel Haber and the staff at Matanat Chaim who spared no effort to find a donor."
Schneider Children's is among the few children's hospitals in the world able to conduct multiple organ transplants. A kidney transplant from a living donor is an especially difficult operation which requires unique preparation by the staff in the hospital comprising pediatric organ transplant surgeons, nephrologists, anesthetists, ultrasound technicians, surgical nurses, intensivists and more.
Schneider Children's conducts the majority of organ transplants in children in Israel. Since its inception, over 600 transplants of heart, lung, liver and kidney have been implanted into infants, children and adolescents with a level of success on a par with leading medical institutions in the world.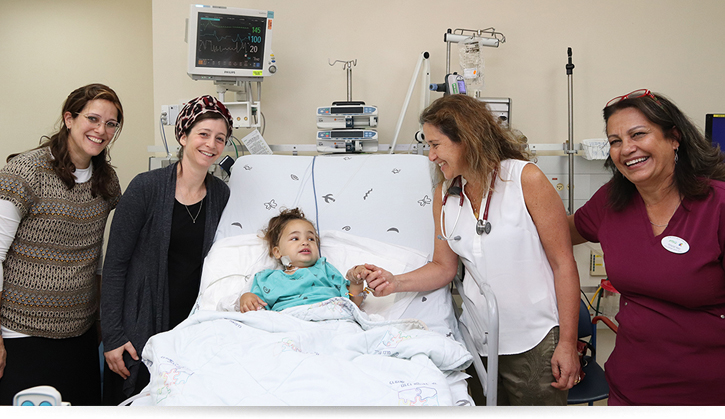 R-L: Naomi Zanhandler, kidney transplant coordinator at Schneider Children's, Dr. Sigal Eisner, head of pediatric kidney transplantation at Schneider Children's, Roni, the donor Shoshana Cohen and Roni's mother, Michal