Skip page content
Life-Saving Liver Transplant
14-month-old Vas Vawi received the gift of life thanks to the courageous decision of 17-year-old Mohammed's parents
Date: 24.05.21 | Update: 26.05.21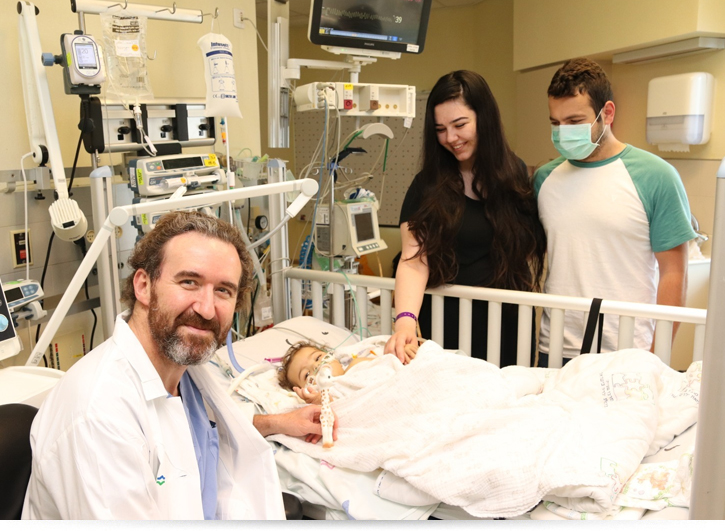 14-month-old Vas Vawi from Kafr Kana received the gift of life thanks to courageous decision of 17-year-old Mohammed Mahamid's parents. Tragically, Mohammed died after receiving a shot in the head during a demonstration in Uhm el Fahm last week. Despite their hour of sorrow, his parents agreed to donate his organs, thus saving the lives of 6 people, Vas among them.
Vas had suffered from a congenital liver disease that caused life-threatening jaundice; only a liver transplant could save his life. Last week, following the tragic death of the youth, his parents received the news of the liver donation for which they had been waiting since Vas's birth.
A liver transplant in such a small child is an especially complex procedure which demands exceptional preparation by the surgical teams in the hospital comprising pediatric organ transplant surgeons, ultrasound technicians, gastroenterologists, anesthetists, surgical nurses, intensivists and more. The transplant was conducted by Dr. Michael Gurevich, Director of the Liver Transplantation Unit, Dr. Ehud Guetta of the Ttransplantation Division and Dr. Evelyn Trabkin, deputy director of the Anesthesia Department. Following the surgery, the toddler was transferred to the Pediatric Intensive Care Unit headed by Prof. Elhanan Nahum. The transplant was coordinated by Nurse Michal Shafir.
Aisha Vawi, Vas's mother. said "We are deeply grateful to Mohammed's family, who under such tragic circumstances, made the courageous decision to donate his organs, thus saving the lives of others. We also wish to thank Dr. Gurevich who saved our son's life and the amazing team in Schneider Children's who accompanied us throughout his hospitalization."
Schneider Children's conducts the majority of organ transplants in children in Israel. Since its inception, more than 600 transplants of heart, lungs, liver and kidneys have been conducted in infants, children and adolescents with success on a par with leading medical institutions in the world.