Skip page content
Meningococcal Infection Results in Deafness
Rapid treatment by Schneider doctors saved the life of a 9-month-old infant but complications from the bacteria led to irreversible deafness. International Meningococcal Day is being marked this week - Schneider specialists caution: this is a severe disease that can cause meningitis, septicemia and even death
Date: 28.04.21 | Update: 06.05.21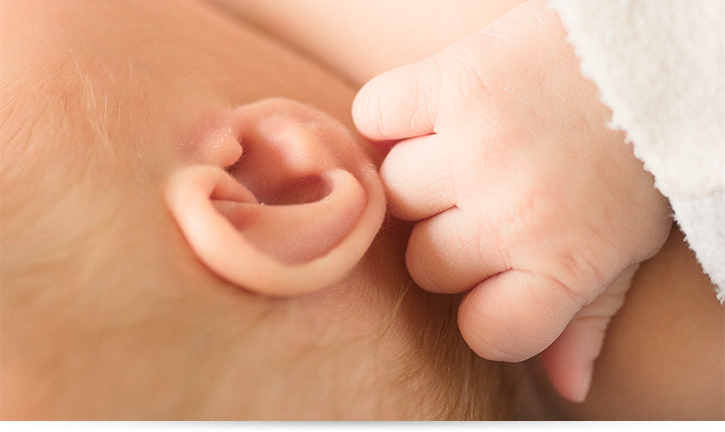 A 9-month-old infant was brought to Schneider Children's suffering from a high fever that continued to get worse. The infant arrived at the hospital's Emergency Medicine Department (ER) in a moderate condition and underwent a series of tests to identify the cause of her fever.
She was found to be suffering from meningitis caused by the meningococcal bacterium. This bacteria generally does not lead to medical problems even though it exists in the area of the throat and nose in many children and adults. Severe disease is caused when a virulent strain of the bacteria succeeds in entering the bloodstream where it makes its way to the brain's meninges.
Meningitis related to this germ is called meningococcemia ("the predator bacteria"), where the contagion represents an immediate threat to life. The infant was admitted to the Pediatric Intensive Care Unit, headed by Prof. Elhanan Nahum, where she was treated with antibiotics and fluids. A day later, she was transferred to Pediatrics A, headed by Dr. Gilat Livne, for continued care.
Once her temperature subsided, there was an improvement in her general condition and she started playing and communicating with those around her. However, suspicion was raised by her parents and the medical team when the infant did not respond to voice stimulation. As part of the routine investigation following bacterial meningitis, she underwent a BERA test which tests the brain's response to sounds. A severe loss of hearing was found in both ears.
Impaired hearing is among the most common complications of meningitis which develops from a bacterial infection, because the inflammation can affect the aural nerve. In cases where the infection causes a mild hearing impairment, most patients can cope with the assistance of a hearing aid. But in cases where the hearing impairment is deep, there is no choice but to resolve the situation surgically through a cochlear implant.
Dr. Livne, a specialist in infectious diseases, noted that "the meningococcus is a tricky bacteria that causes fever that mimics another "viral infection", and many times, parents and doctors do not realize that this is a significant illness that should be treated at once. The most sensitive population to contract diseases is in infants up to the age of 2 years, who are at the highest risk, ten times more than an adult exposed to the bacteria. I recommend that parents ensure their children receive the standard vaccinations and the vaccine against the meningococcus bacteria. It is important to know that should an infant develop various symptoms in the upper respiratory tract such as a runny nose, a cough with high fever, or red-blue rashes on the skin that do not disappear after light pressure, the child must be taken to the nearest hospital ER for immediate treatment."