Skip page content
Life-Saving Liver Transplant
A life-saving liver lobe transplant was recently conducted at Schneider Children's saving the life of toddler Maya Dosh, aged 2, who suffered from a disease of her biliary ducts
Date: 14.03.21 | Update: 21.03.21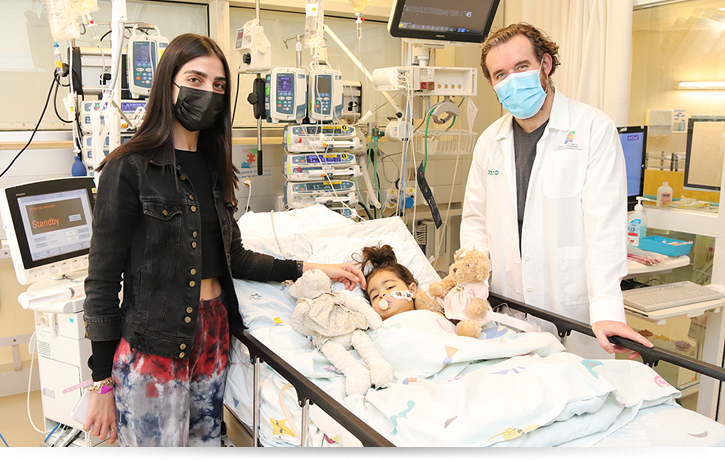 A life-saving liver lobe transplant was recently conducted at Schneider Children's saving the life of toddler Mia Dosh, aged 2, who suffered from a disease of her biliary ducts.
The transplantation was conducted by a team from the Transplantation Department of Schneider Children's, led by Dr. Michael Gurewitz, head of the Liver Transplantation Unit, senior surgeon Dr. Aviad Gravitz, and anesthetist Dr. Eliahu Simchi. Followintg the operation, the toddler was transferred to the Pediatric Intensive Care Unit headed by Prof. Elhanan Nahum. Follow-up care will be conducted by Dr. Yael Mozer-Glassberg, head of the pediatric liver transplantation service and senior physician in the Institute of Gastroenterology, Nutrition and Liver Diseases. The transplant was coordinated by nurse Michal Shafir.
Organ transplantations in children are particularly complex and require special preparation by the multidisciplinary team at the hospital which includes pediatric organ transplant surgeons, pediatric anesthetists, ultrasound technicians, gastroenterologists, transplant coordinators, social workers, dieticians, surgical nurses, intensivists and intensive care nurses, and the team in Pediatrics C which treats liver recipients. All personnel are specialists in their respective fields with broad experience in treating pediatric organ recipients.
Nofar, Mia's mother, emotionally thanked the donor's family: "Dear family, we would like to thank you from the bottom of our hearts for your spiritual courage and donation. Because of you, my daughter has received and will begin a new lease on life. We share in your sorrow and will always be grateful to you. The gastroenterology team at Schneider welcomed us two years ago to the clinic and from that first day, you embraced us, you explained things, accompanied us through the days and nights. We bow before you for your work and salute the dedicated care you gave to Mia. I call upon every one to sign the Adi life-saving organ donation card."
Schneider Children's performs the majority of organ transplantations in children in Israel. Since its inception, more than 600 transplants of heart, lungs, liver and kidneys have been implanted into infants, children and adolescents with rates of success on a par with the best medical centers in the world