Skip page content
The Price of Lockdown – Foreign Bodies
Within two weeks, 5 children under the age of 3 were brought to the ER with swallowed or inhaled foreign bodies
Date: 14.02.21 | Update: 16.02.21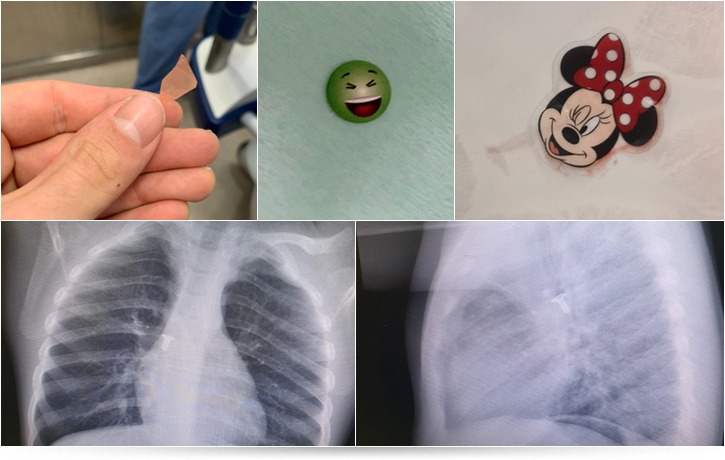 The prolonged stays at home due to COVID-19 lockdowns require many parents to provide different activities for their children. While creative activities are an enjoyable way to pass the time together, they can also endanger life. Within a period of two weeks, 5 infants under the age of 3 were brought to the Emergency Medicine Department (ER) at Schneider Children's after swallowing foreign objects, among them a sponge, screw and stickers.
A one-year-old from Bnei Brak was brought to the ER after her parents noticed that, while eating a roll, she began to cough and choke. Her condition deteriorated rapidly and she was rushed to the ER, headed by Dr. Ron Berant, and examined by Dr. Eran Mashiah, a senior physician. Doctors had awaited her arrival including an anesthetist and ENT specialist and she was rushed immediately into the Trauma Room where her condition further worsened with complete blockage of her airways. Due to the life-threatening situation where every minute counted, the child was sedated. Anesthetist and pain doctor, Dr. Aviv Tutenauer, recounted, "At this stage, the child was already blue. We intubated and ventilated her with a hand pump and mask. Once she was asleep, using a laryngoscope, we opened her mouth to look at her airways. Imagine my surprise when a Mini-Mouse sticker smiled back at me."
A plastic tube was inserted through her mouth into the airway passage between the vocal cords, and Dr. Tutenauer extracted the small plastic sticker. She was subsequently transferred to the Operating Room where a bronchoscopy ruled out any other foreign objects in the airways. Following the procedure, the child was admitted to the Pediatric Intensive Care Unit headed by Prof. Elhanan Nahum, for further observation. She was eventually discharged in good health.
This was followed by another two cases. A 9-month-old arrived at the ER coughing and choking, while an 8-month-old had suddenly began to choke and dribble. Both were taken to the Operating Room, headed by Dr. Yaacov Katz, where they underwent bronchoscopies performed by Dr. Meir Mei Zahav, Head of the Asthma Unit in the Pulmonary Institute at Schneider Children's and Dr. Guy Steier, senior pulmonologist. Stickers from the airways of both infants were successfully extracted, and following recovery, they were discharged.
In another two cases, specialists removed a screw that was swallowed by one child, and part of a hard sponge ball that had been inhaled by an 11-month-old infant. The sponge was extracted through bronchoscopy by Dr. Yoram Stern, Head of the Upper Airways Unit at Schneider Children's. The second bronchoscopy to extract the screw was performed by senior pulmonologist Dr. Ofir Bar-On. Both children were admitted for observation and subsequently discharged.
Dr. Berant said that "the recent period has been extremely challenging due to lockdowns and the closure of the education system. Many children and toddlers have been at home throughout the entire day and they are prone to home accidents, raising the risk of their swallowing or inhaling foreign objects. We repeat and caution parents to pay attention and closely supervise their children so they don't play with small objects. In any case of a reasonable suspicion that a foreign object has been swallowed, the child must be rushed immediately to hospital."