Skip page content
Channukah Surprise
A huge channukiah (menorah) of 20,000 balloons was erected in the lobby of the hospital to mark the onset of the Festival of Lights and the lighting of the first candle
Date: 14.12.20 | Update: 14.12.20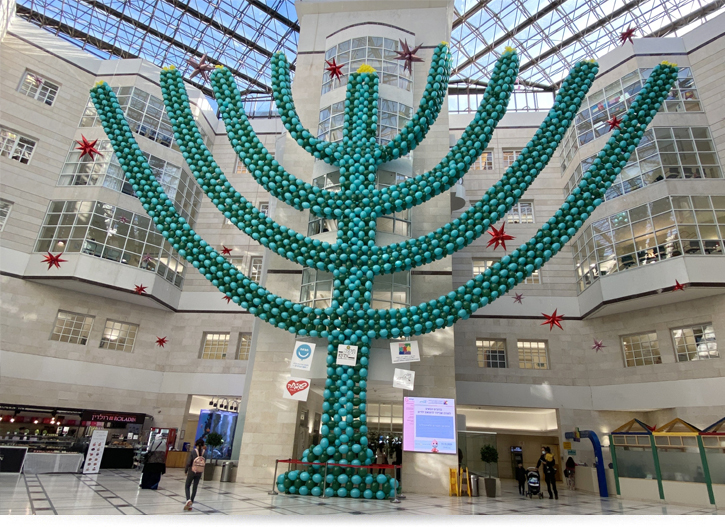 A huge channukiah (menorah) of 20,000 balloons was erected in the lobby of the hospital to mark the onset of the Festival of Lights and the lighting of the first candle.
The channukiah was installed at the initiative of the Hope and Care non-profit that supports the Nephrology Institute at Schneider Children's, Assaf Balloons, and Sport Attraction snappling enthusiasts. After the festival, some of the balloons will be re-directed towards artistic activities in the pediatric departments according to the safety instructions of the Ministry of Environmental Protection.
This year, in the shadow of the corona pandemic, the challenge of erecting the channukiah was different than in previous years and yet, in spite of the restrictions, volunteers did not give up on their efforts to cheer children and their families in the hospital. The channukiah was installed by teams in capsules, while maintaining strict adherence to social distancing and hygiene regulations.
Comprising 20,000 balloons at a height of 20 meters and 45 meters wide, the channukiah was designed and engineered by artist Assaf Balloons, and erected by 90 volunteers from Hope and Care who were divided into capsules. They were assisted by 10 snappling enthusiasts from Sport Attraction, who generally deal with rescue operations and extreme sports, but this time were recruited to help erect the channukiah.
Patients and their families looked on with delight at the enormous and impressive menorah that greeted their arrival in the morning in the hospital lobby and took many photos. The initiative to erect the large balloon structure for Channukah has become an annual tradition for the Hope and Care Charity, which aims to cheer and encourage patients and their families during the Festival.
Hope and Care supports the Dialysis Department in the Nephrology Institute at Schneider Children's, organizes various activities for the children and provides assistance to families. Assaf Balloons has volunteered with the non-profit for the past 6 years with great creativity in order to cheer up hospitalized children.