Skip page content
Two Consecutive Organ Transplants
An 18-year-old girl and 3-year-old boy received a new lease on life following organ donation
Date: 14.12.20 | Update: 14.12.20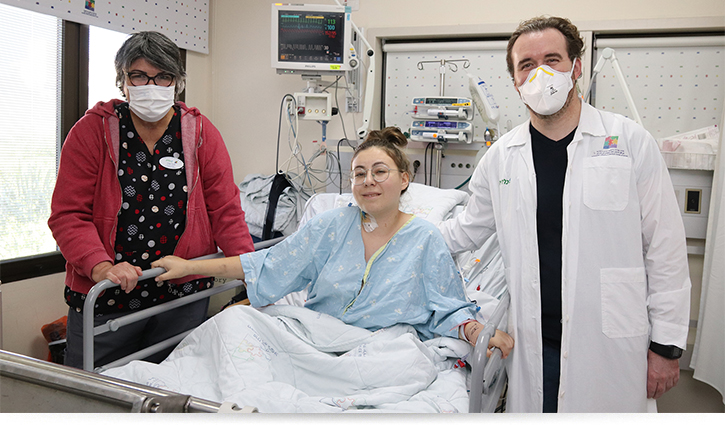 This week Schneider Children's conducted two life-saving operations, one after the other. A liver transplant was performed in 18-year-old Ella Kramer, who suffered from a defect in the bile ducts, and a kidney was transplanted into a 3-year-old boy, who was born with dysplastic kidneys. He had undergone dialysis at Schneider Children's and waited two years for a kidney donation. Both children recovered well from their surgeries in the Intensive Care Unit.
Ella said with excitement that "I have no words to express my admiration for the courage of the family who agreed to donate the organs. I was already in a difficult place, in despair and without hope until we received the news that a suitable liver had been found for me. This was a miracle and because of their courage, I have my life back again. This is my personal miracle for Channukah."
In order to conduct liver and kidney transplants in children, which are especially complex in small children, special preparation is required by the multidisciplinary teams in the hospital which comprise pediatric transplant surgeons, anesthetists, ultrasound technicians, gastroenterologists, nephrologists, coordinators, social workers, dieticians, surgical and intensive care nurses, intensivists, teams in Pediatrics C who treat organ recipients, and more. All are highly skilled and experienced in their particular fields.
Schneider Children's is among the few pediatric hospitals in the world capable of conducting a large number of organ transplants. The operations were conducted by Dr. Michael Gurevich, Director of the Pediatric Liver Transplantation Unit at Schneider Children's and Dr. Sigal Eisner, who heads the kidney transplantation service at Schneider Children's and serves as a senior physician in the Transplantation Department at Beilinson Hospital. Following the surgeries, the children were treated in the Pediatric Intensive Care Unit headed by Dr. Elhanan Nahum. The liver transplant was coordinated by Nurse Michael Shafir and the kidney transplant was coordinated by transplant coordinator Naomi Zanhandler.
Schneider Children's conducts the majority of organ transplants in children in Israel. Since its inception, more than 600 transplants of heart, lungs, liver and kidneys have been performed in infants, children and adolescents, with rates of success on a par with leading medical centers in the world.