Skip page content
Liver Transplant
A liver lobe transplant was performed in a 15-week-old infant at Schneider Children's. Little Theodore is the youngest liver recipient in the country
Date: 09.08.20 | Update: 17.08.20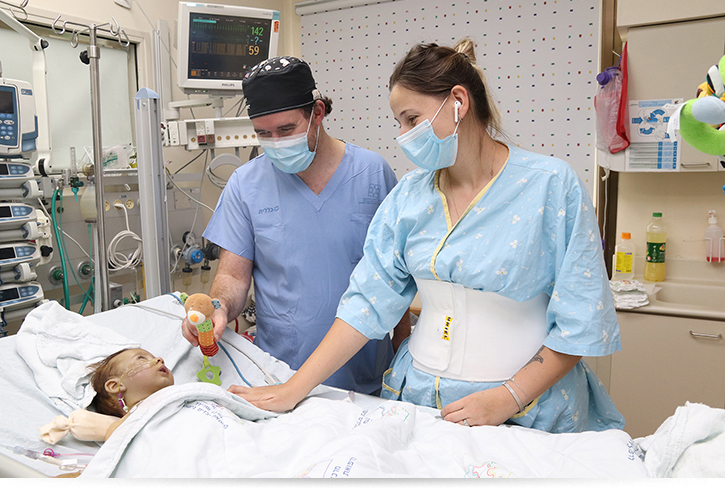 A liver lobe transplant was performed in a 15-week-old infant at Schneider Children's. Little Theodore is the youngest liver recipient in the country. He suffered from a severe liver condition and needed an urgent transplant. His mother donated a liver lobe to save his life.
A liver transplant from a living donor is a unique, complex procedure requiring special preparation of medical teams in the hospital, including pediatric transplant surgeons, ultrasound technicians, gastroenterologists, anesthetists, surgical nurses, intensivists and more. Both donor and recipient are placed in adjacent operating theaters. First the liver lobe is removed from the adult donor after which it is transferred to the child in the operating room next door where the transplant takes place. A liver transplant in a small infant is even more complicated and requires special instrumentation adapted to the child's small vessels.
The transplant was conducted by Dr. Michael Gurewitz, Director of the Liver Transplantation Unit at Schneider Children's, Dr. Vladimir Tenk, senior physician in the transplantation unit, anesthetists Dr. Yaacov Katz and Dr. Evelin Trabkin, and Golan Shukrun, heart and lung machine technician. Following the transplant, the infant was transferred to the Pediatric Intensive Care Unit headed by Dr. Elhanan Nahum. Follow-up care was conducted by Dr. Yael Mozer-Glazberg, Director of the Liver Transplant Service. The transplant was coordinated by nurse Michal Shafir.
Schneider Children conducts the majority of organ transplantations in children in Israel and is among the few pediatric hospitals in the world capable of performing a number of organ transplants simultaneously. Since its inception, more than 600 heart, lung, liver and kidney transplants have been performed at Schneider Children's with rates of success on a par with leading hospitals in the world.
Dr. Michael Gurewitz said that "every transplant means a life is saved, but this case was particularly poignant because this was a nearly impossible mission. Transplanting a liver in such a small infant weighing so little is very challenging from the surgical standpoint due to the difficulty of inserting a new organ into a baby's body when his abdominal cavity is so small and narrow and where connecting of the vessels is a microscopic procedure. This demanded precise and intricate manoevers. There are only a few centers in the world able to conduct liver transplants in children and infants, and I am pleased to be part of them."