Skip page content
2019 Outstanding Employees
Despite the delay due to corona, Schneider Children's presented awards for 2019 Outstanding Employee to 4 veteran workers
Date: 02.08.20 | Update: 16.08.20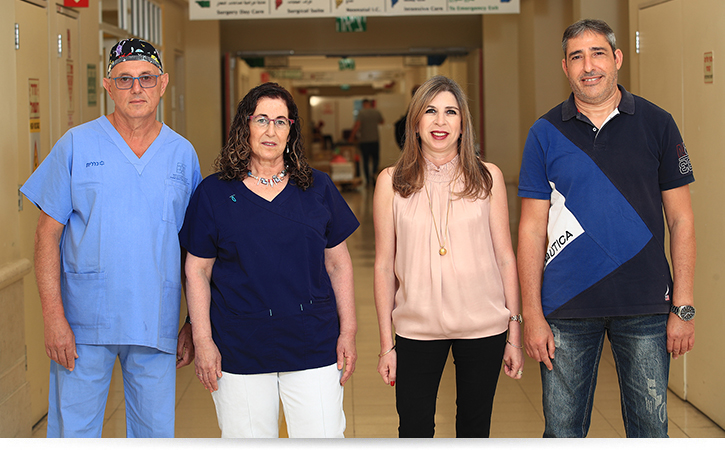 Schneider Children's Awards for Outstanding Employees for 2019 was recently presented to 4 workers in tribute to and admiration for their dedication and initiative that they displayed over the past year. Due to the coronavirus restrictions regarding gatherings, the presentation ceremony was not held as usual. Instead, a small ceremony was arranged and broadcast live via the hospital's YouTube channel.
The Clalit CEO's Prize was awarded to Dr. Yaacov Katz, Director of the Surgical Suite and Anesthesia Department at Schneider Children's, who had led the division to extraordinary achievement both in terms of its excellence and accomplishments, representing the finest standards in Clalit. The division advances innovative technologies and is ready for any contingency even a complex organ transplant at any hour of the day or night. This is due to Dr. Katz's skilled and superb leadership, and his unbound concern for the child in need.
Schneider Children's CEO's Prize was awarded to three employees:
Shuki Ezra, a stock-keeper in the pharmacy for almost a decade, who supervises equipment and medications, and has shown efficiency, responsibility, knowledge and dedication to every request, always with a professional, pleasant and courteous demeanor.



Simcha Trapp, registered nurse in the Institute of Gastroenterology, Nutrition and Liver Diseases, is a veteran employee at Schneider Children's. She has gained broad clinical experience and knowledge during her years at the hospital and possesses outstanding initiative, responsibility and ambition in performing every duty in the best possible way. During the recent corona period, she undertook responsibility to instruct all medical teams regarding proper protection.



Racheli Battat, a secretary in the Human Resources Department and coordinator of welfare, has been employed at Schneider Children's since its inception. Racheli fulfills both roles with excellence, while providing the best service to all employees. Her concern and caring serves as a significant cornerstone in the department.

Prof. Joseph Press, Director of Schneider Children's: "Many employees at Schneider Children's perform their duties with great professionalism, devotion and dedication, thus the process of selecting outstanding employees is not simple. Publication of the Outstanding Employees was delayed this year due to the corona pandemic, but we are proud even at this late date of those chosen due to their high inter-personal skills, knowledge, initiative and innovation, diligence, dignity and compassion which they provide to our young patients, parents and friends. I am proud to present the prizes to our worthy employees."