Skip page content
Schneider Children's Receives Clalit's 2019 Hospital of Excellence Award
Clalit's 2019 Hospital of Excellence Award was presented to Schneider Children's Medical Center for the fourth time in the last decade
Date: 04.08.20 | Update: 04.08.20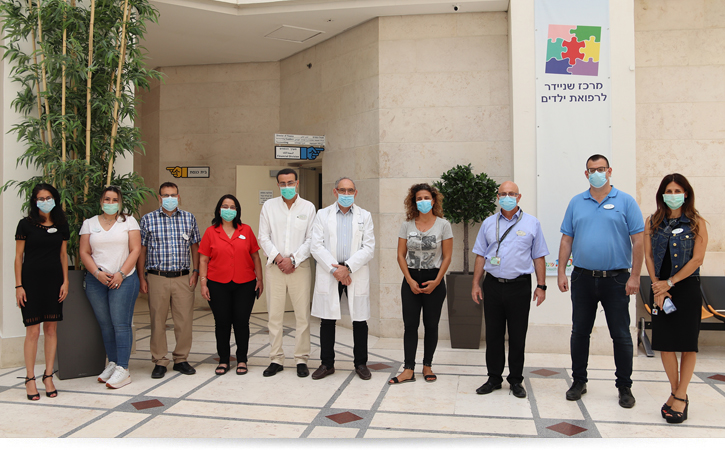 Clalit's 2019 Hospital of Excellence Award was presented to Schneider Children's Medical Center in a ceremony in tribute to outstanding employees of the hospital for 2019. Due to corona limitations, the ceremony this year was different than in prior years and was broadcast live on Clalit's Facebook page, with the online participation Clalit's hospitals and regional administrations. This is the fourth time in the past decade that the prestigious prize was awarded to Schneider Children's following three prior consecutive wins in 2012, 2013 and 2014.
The award was presented by Prof. Ehud Davidson, CEO of Clalit Health Services, who emphasized in his remarks that Schneider Children's was worthy of the accolade due to many reasons, among them "medical excellence, innovation, technology and service".
Prof. Joseph Press, Director of Schneider Children's, stated that "The Hospital Award of Excellence presented to Schneider Children's is a tribute to the professional and dedicated efforts of all the employees in the hospital. Schneider Children's is the leading pediatric center in Israel and one of the best children's hospitals in the world, not only due to its impressive medical achievements and great successes in research, but mainly due to the spirit and compassion of all its staff. The members of the hospital administration and I are proud, and salute the workers in Schneider for their intensive efforts to treat sick children. We will continue to advance the hospital's vision, to promote and lead pediatrics in Israel."