Skip page content
Schneider-Weizmann Institute for Research of Child and Adolescent Health
Schneider Children's and the Weizmann Institute of Science sign an agreement to partner in joint biomedical research
Date: 29.07.20 | Update: 30.07.20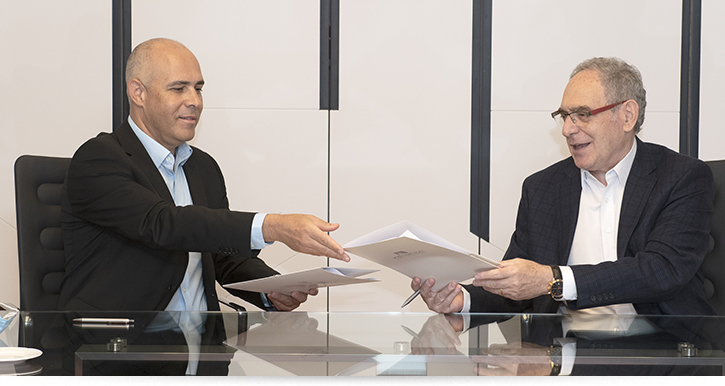 Schneider Children's and the Weizmann Institute of Science have signed an agreement to partner in joint biomedical research. Both institutions aim to jointly establish the "Schneider-Weizmann Institute for Research of Child and Adolescent Health". The partnership will follow the model of other collaborative studies conducted by the Weizmann Institute of Science. Among the research disciplines delineated in the agreement: Oncology, Neurology, Psychiatry, Gastroenterology, Endocrinology, Nutrition, Metabolism, and others based on future evolvement.
The need and opportunity for the collaboration arose from prior research conducted by scientists at Weizmann together with doctors at Schneider Children's concerning the child and adolescent growth and development cycle, and various disease and disorders prevention in these and other fields.

Both institutions will work together and separately to recruit the resources necessary to operate the joint biomedical research initiative.
Prof. Alon Chen, President of the Weizmann Institute of Science, stated that "the key mission of the Weizmann Institute of Science is basic research driven mainly by the scientific curiosity of the researchers who aim to better understand the different processes in nature in general, and the human body in particular. Experience has shown that basic research often leads to innovation and the development of new technologies, medications and treatment methods. With this, over recent years, and as part of drawing conclusions from the corona crisis, we decided to make every effort to shorten and efficiently expedite the transfer of scientific ideas for application in medical fields. Equally, it is important that scientists learn from doctors where there is special need for research in their fields. Collaboration between scientists and doctors is expected to create a rapid bridge that will allow everyone, scientists and doctors, to apply mutual knowledge and skills for the benefit of every human being."
Prof. Joseph Press, Director of Schneider Chidlren's, noted that "Schneider Children's has gained a wonderful reputation in the medical community in Israel and worldwide due to its broad clinical accomplishments, breakthrough research, leadership, and collaborations with international medical institutions. I am proud of our extensive research activities both in Israel and abroad, in many research areas, innovative technologies and achievements in the hospital since its inception and up until today. I believe that research is what makes the difference between a good hospital and an excellent one, and I have no doubt that the link between the Weizmann Institute and Schneider Children's will result in innovative research studies and new treatments, which will bring hope to many children in Israel and around the world."