Skip page content
Vaccinate Your Children!
A 7-month-old infant is left with irreparable brain damage after contracting meningitis due to his not having received routine vaccinations
Date: 23.07.20 | Update: 27.07.20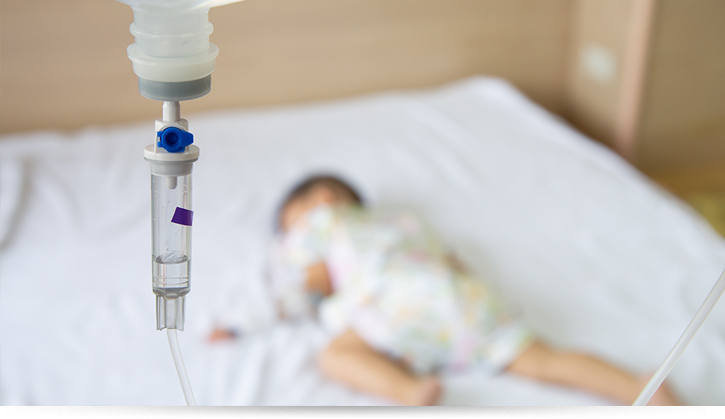 A 7-month-old infant from Bnei Brak was admitted to the Pediatric Intensive Care Unit at Schneider Children's in a critical condition with fluctuations in consciousness, fever and a protruding fontanel – symptoms of suspected meningitis.
He underwent a lumbar puncture that confirmed the diagnosis caused by the Hemophilus Influenza b bacteria. Further investigation revealed that the baby did not receive his routine vaccinations due to, inter alia, the parents' fear of going to the Well Baby Clinic during the period of COVID-19. This resulted in the infant suffering irreversible brain damage despite prolonged antibiotics as well as support for the damage incurred.
In a disturbing coincidence, an 8-month-old infant from Herzliya arrived at the ER at Meir Hospital a week-and-a-half ago presenting with the same infection. She underwent diagnosis and treatment in the Pediatric Intensive Care Unit where her condition improved and she was later discharged.
Prof. Efi Bilavsky, senior physician in the Department of Pediatrics C, and a specialist in infectious diseases at Schneider Children's, stated that "innoculation against this strain is given to infants as part of routine vaccinations at the Well Baby Clinics at the age of 2, 4, 6 and 12 months. The vaccine is very effective in preventing this type of bacteria, and the rate of severe infections in infants dramatically declines after the first two administrations of the vaccine. Most regrettably, in this case, the infant was not routinely innoculated and is now fighting meningitis. He suffers from irreversible damage to his hearing and nervous system.
"This raging disease and the resultant damage could have been prevented if the infant had received his innoculations on time. We are aware of parents' fear of visiting clinics during the corona period, but we call on them to protect their children and ensure that they receive their vaccinations as mandated in order to avoid devastating infantile diseases. Moreover, since COVID-19 has not directly affected many children, this is evidence of collateral damage caused as a result of the fear of contracting the coronavirus."
Prof. Bilavsky emphasized that "this is a dangerous period for those against vaccinations who have always enjoyed herd immunity. Now while there are also parents - who normally ensure that their children receive routine innoculations - are avoiding these, there are dangerous bacteria and viruses which have returned to circulation and children who are not vaccinated are in danger of infection. I ask that parents who have missed vaccinations or whose children have not yet been vaccinated to do so immediately. At the same time, I appeal to those against vaccinations to sober up, otherwise the next case will be unavoidable."
Dr. Deganit Adam Cohen, head of the PICU at Meir Hospital, said that "the infant arrived in a critical condition with high fever, apathy, repeated vomiting and severe lethargy. Tests showed that she suffered from a bacterial infection. As opposed to those who practiced medicine 30 years ago who used to treat hundreds of difficult cases such as these every year, during the past 15 years of my practice, I have fortunately not seen such a severe case of infection as a result of this virus."