Skip page content
Rare String of Coincidences
5 children in the Cardiac Intensive Care Unit placed on ECMO simultaneously
Date: 03.03.20 | Update: 19.04.20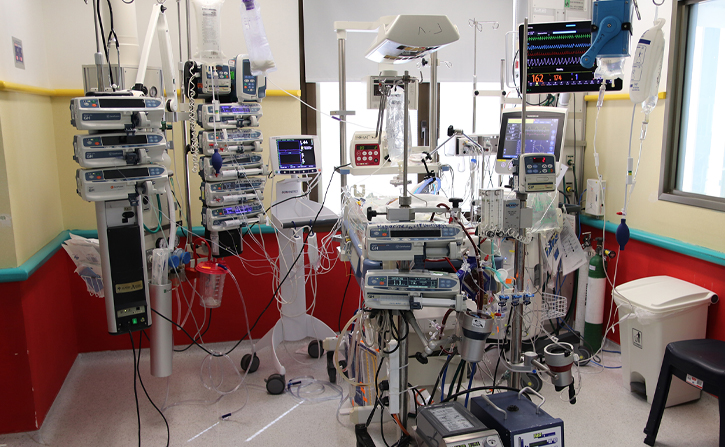 A rare string of coincidences occurred recently in the Cardiac Intensive Care Unit (CICU) at Schneider Children's: 5 children were connected simultaneously to the ECMO (Extra Corporeal Membrane Oxygenation) machine which replaces the function of the heart and lungs. Four infants and one child, all of whom are suffering from various cardiac ailments, were connected to 5 ECMO machines at the same time to save their lives. In order to treat the 5 simultaneously, special preparation of the multidisciplinary staff alongside extraordinary skill and broad experience is called for in the department. This is only the second time that such a string of incidents has occurred. In 2014, 5 children were similarly attached to the ECMO machine in the CICU, headed by Prof. Ovdi Dagan and Head Nurse Rim Abd El Hai.
Three of the four infants were admitted to the CICU after they were transferred from other hospitals in the country. They included a 10-month-old suffering from a bacterial infection, a 6-day-old with respiratory distress syndrome of the newborn, and a 2-month-old who had fever and suffered seizures. In order to transfer the infants, a unique team of highly skilled Schneider Children's professionals was required to bring each child from the first hospital - while connected to the ECMO - safely to the CICU at Schneider Children's. In addition to the three infants, a 2-week-old with a congenital heart defect, and a 7-year-old with a tumor in his chest that obstructed his airway passages, were connected to the ECMO.
The ECMO is a life-saving technique which provides support outside the patient's body to those suffering from severe heart or lung failure. The system replaces the organs' function until full recovery is attained.
Prof. Dagan noted that "Schneider Children's is among the few hospitals in Israel that has the ECMO system to treat young children. The enormous experience gained by the staff in the CICU is what allows us to achieve almost the impossible – to treat 5 children at the same time with this complex technology and ensure they receive the most advanced care available today. It is especially important to mention the nurses in the Unit, their dedication and professionalism, who work selflessly night and day to provide these precious infants with the finest treatment, as well as the ECMO technicians who assist in connecting the patient to the machine and monitor proper functioning."