Skip page content
Schneider's Neonatal Dept Places 1st in Israel
For the third consecutive year, the Neonatology Department at Schneider Children's was accorded first place among 29 Neonatal Units in Israel by the Ministry of Health for 2019
Date: 22.12.19 | Update: 26.01.20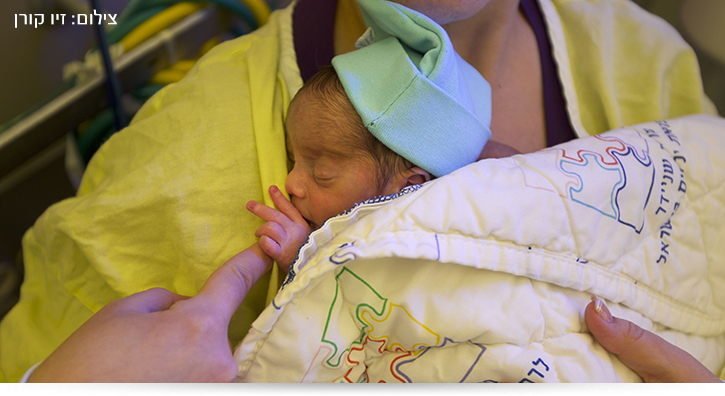 For the third consecutive year, the Neonatology Department at Schneider Children's was accorded the place of excellence among 29 Neonatal Units in Israel by the Ministry of Health for 2019.
The Ministry of Health graded the various neonatal departments according to a variety of parameters among which were the reduction in the incidence of acquired infections; improvement in professional staffing; additional job slots for nurses and for those who have specialized in neonatal intensive care; new beds; medications rooms; isolation rooms; resuscitation courses for staff and parents; reduced radiation exposure for the infants; administering colostrum to preemies within 8 hours of birth; breastfeeding and follow-up of hypothermia; and more.
The Department of Neonatology at Schneider Children's headed by Prof. Gil Klinger is a tertiary care center for premature and newborn infants from all over Israel. About 1,000 babies are treated annually. Infants are hospitalized with a range of medical conditions such as complex respiratory disorders, congenital anomalies of multiple systems, congenital heart disorders, central nervous system abnormalities, disorders of the digestive system, chromosomal and metabolic disorders and very low birth weight infants.
A new Neonatal Department is currently under construction as part of the extension at Schneider Children's. The new facility will be protected and is designed to provide maximum privacy to the families of premature infants, and will upgrade infection prevention in the department. The installation of the latest technological equipment, together with expert professional and dedicated care by medical teams, will propel neonatal medicine in Israel into a new era.
Prof. Joseph Press, Director of Schneider Children's, stated that "the management of Schneider Children's and I are very proud that the Neonatology Department received the grade of excellence. We are duty-bound to provide the finest care to small premature infants and their families, as proven for the third consecutive year. We will continue to lead pediatric care in Israel as well as neonatal care, and we will continue to set the highest standards available. Congratulations and well done to the multidisciplinary team in the department, whose great diligence contributes towards saving the lives of premature infants and safeguarding their health."