Skip page content
Advanced CT Installed
A new and advanced, low radiation CT (Computerized Tomography) machine was recently installed in Schneider Children's to conduct scans in children
Date: 17.12.19 | Update: 26.01.20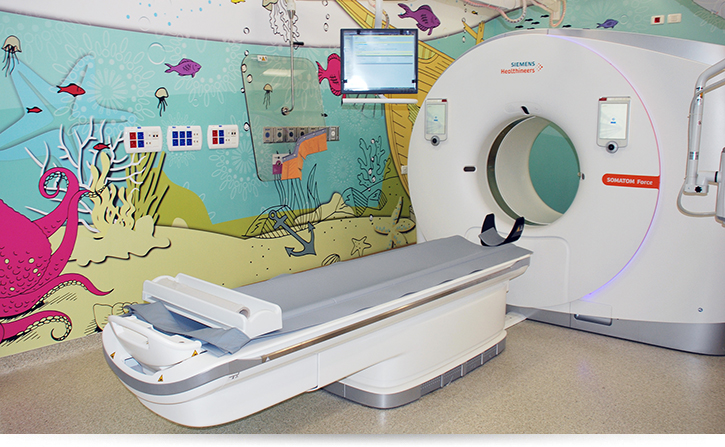 A new and advanced, low radiation CT (Computerized Tomography) machine was recently installed in Schneider Children's. The innovative system, called Somatom Force produced by Siemens, is one of the fastest and most advanced computerized CT scanners in the world.
In contrast to the standard CT scanner equipped with one x-ray tube and one detector, the new system is outfitted with dual x-ray tubes and dual detectors capable of working simultaneously or separately. This significant improvement allows a marked reduction in scanning time of up to less than a second, with high quality, rapid scans of small children, and without the need for sedation. Targeted protocols for pediatric scanning together with multiple hard- and software components result in dramatically reduced radiation dosage with the need for less contrast media. In addition, the system is outfitted with a sophisticated camera above the patient bed, which automatically provides scanning parameters and ensures precise patient positioning at the right height at the press of a button.
Schneider Children's is the only pediatric hospital of its kind in the country and provides the full range of advanced imaging services for children, all under one roof. The new scanner will complement existing imaging services provided to children on a par with leading medical centers around the world - the MRI, Nuclear Medicine and Screening, Ultrasound and conventional imaging. The team of radiologists and technicians in the Imaging Institute excels in studies for infants, children and adolescents, is attuned to their special needs, provides a supportive environment and imaging studies adapted to each child according to his condition, and works in cooperation with pediatric anesthetists where necessary.
According to Dr. Osnat Konan Cohen, Director of the Imaging Institute at Schneider Children's, "Imaging services at a children's hospital are vital for the precise diagnosis of various diseases and injuries in children of all ages. We strive to upgrade services all the time so that we can remain on the cutting edge of technology adapted for children. Towards this end, the advanced CT low-dose scanner will be an immense asset."